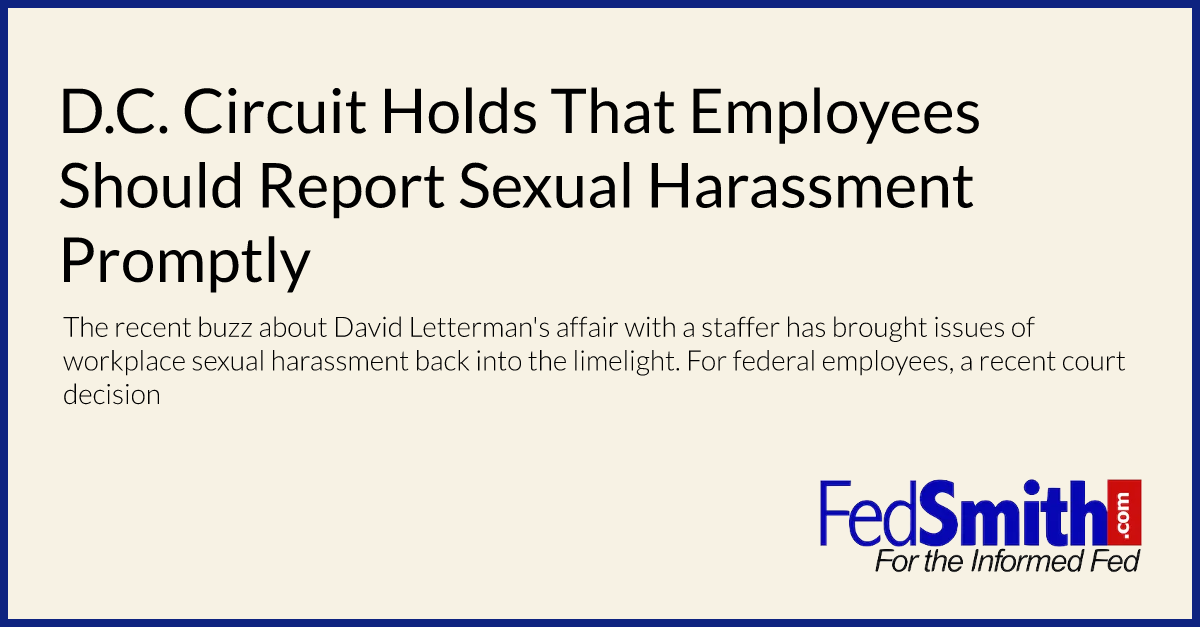 The recent buzz about David Letterman's affair with a staffer has brought issues of workplace sexual harassment back into the limelight. For federal employees, a recent decision from the U.S. Court of Appeals for the District of Columbia Circuit, Taylor v. Solis (Secretary of Labor), No. 07-5401 (D.C. Cir. July 10, 2009), makes it more important than ever for employees to report harassment promptly.
Ruby Taylor sued her employer, the Pension Benefit Guaranty Corporation (PBGC), under Title VII of the Civil Rights Act of 1964, claiming her supervisors sexually harassed, and, when she complained, retaliated against her. The district court granted summary judgment to the PBGC, and Taylor appealed. PBGC's policy against sexual harassment directs employees who believe they have been sexually harassed to "immediately contact an EEO Counselor or the EEO Manager," who is to investigate the charge of harassment and, if warranted, implement an appropriate remedy.
The policy also states the "PBGC's managers and supervisors have a particular responsibility for providing a work environment free of … sexual harassment."
Taylor alleged her two supervisors created a sexually charged environment beginning in the summer of 2001. The harassment varied from inappropriate comments concerning her genitalia, intimidating comments if she decided to complain, to comments suggesting that Taylor would "owe" her supervisors if they gave her a positive performance evaluation. After a period of time, Taylor confided in a Team Leader, who was also her friend, that she felt harassed; he did not advise her to go to the EEO Counselor, nor did he go himself.
Taylor also confronted the harassing supervisor and threatened to report him if he did not stop sexually harassing her.  The supervisor responded that because he was a "nice guy," no one would believe her.
In April 2002, almost a year after the harassment began, Taylor officially reported the conduct by filing a complaint with the PBGC's internal investigator, who did not find a violation of the Corporation's policy. She then filed a complaint with the EEO Office.
According to the D.C. Circuit, Title VII makes it unlawful for a supervisor to create a hostile environment based upon an employee's sex. Sexual harassment creates a hostile environment only if it is so "severe or pervasive [as] to alter the conditions of [the victim's] employment and create an abusive working environment." An employer has an affirmative defense to a hostile environment claim if (1) the employer "exercised reasonable care to prevent and correct promptly any sexually harassing behavior" and (2) "the plaintiff employee unreasonably failed to take advantage of any preventive or corrective opportunities provided by the employer or to avoid harm otherwise."  Therefore, the PBGC could avoid liability if it showed "that, as a matter of law, a reasonable person in [Taylor's] place would have come forward early enough to prevent [the] harassment from becoming 'severe or pervasive.'"
The D.C. Circuit agreed with the district court that a reasonable employee in Taylor's position would have come forward in October or November 2001, when Taylor instead posted the PBGC's sexual harassment policy on her office door and told the Team Leader that her supervisors had been sexually harassing her.  The court explained, "A reasonable employee who believes and tells others she is being sexually harassed would report it if she knows — as Taylor should have and apparently did know — a complaint procedure has been established for that purpose."  The court also reasoned that the PBGC duly investigated once notified of the harassment and, even though it did not find harassment, the sort of conduct about which Taylor had complained did not recur.
Taylor argued she effectively notified the PBGC's management of her complaint in the fall of 2001 when she confided in the Team Leader.  The D.C. Circuit concluded, however, that Taylor could not reasonably have believed talking to the Team Leader was a substitute for using the agency's complaint procedure.  The court also held that although the Team Leader, as a member of management, had, as the policy states, a "particular responsibility" to address workplace discrimination, he was neither the harasser's supervisor nor an EEO officer.  The policy expressly required Taylor, if she believed she was being harassed, "immediately [to] contact an EEO Counselor or the EEO Manager."  According to the court, "[h]aving ignored the complaint procedure, Taylor cannot now complain that [the Team Leader] should have filed a formal complaint on her behalf . . . ."  Taylor argued in the alternative that her delay in filing a complaint, from the fall of 2001 to April 2002, was not unreasonable.  But, the appeals court found that a delay of five or six months was "anything but prompt."
In a dissenting opinion, Judge Rogers' stated that Taylor proffered evidence that she was not fully informed of her options under her employer's sexual harassment procedures; that her harasser used his supervisory authority to intimidate her by suggesting that if she formally complained she would be punished; that she complained to a member of management who did not recommend she report the harassment to anyone else; and that when the harassment intensified to the point of becoming physically threatening, she filed a formal complaint as her employer's policy contemplated. She determined, therefore, the court erred with respect to the legal standard for determining when an employee must take advantage of her employer's corrective procedures.
Judge Rogers also noted that the court held, as a matter of law, that Taylor should have reported the harassment in "October or November of 2001" because "[a] reasonable employee who believes and tells others she is being sexually harassed would report it," but that "[t]his holding abandons binding precedent by converting what was heretofore a legally objective inquiry into when an employee should have reported harassment . . . into one that is now subjective."
For federal employees, the "take away" lesson from Taylor v. Solis is that if you believe you are being sexually harassed or singled out due to gender, do not delay in reporting the harassment to your EEO Counselor or EEO Manager. Any delay could be construed as an "acceptance" of the behavior. Also, be sure you make your report to the proper authorities. Notably, Taylor's report to the Team Leader was not taken as "formally complaining" about the harassment, which reflects a definite departure from the previously accepted practices.