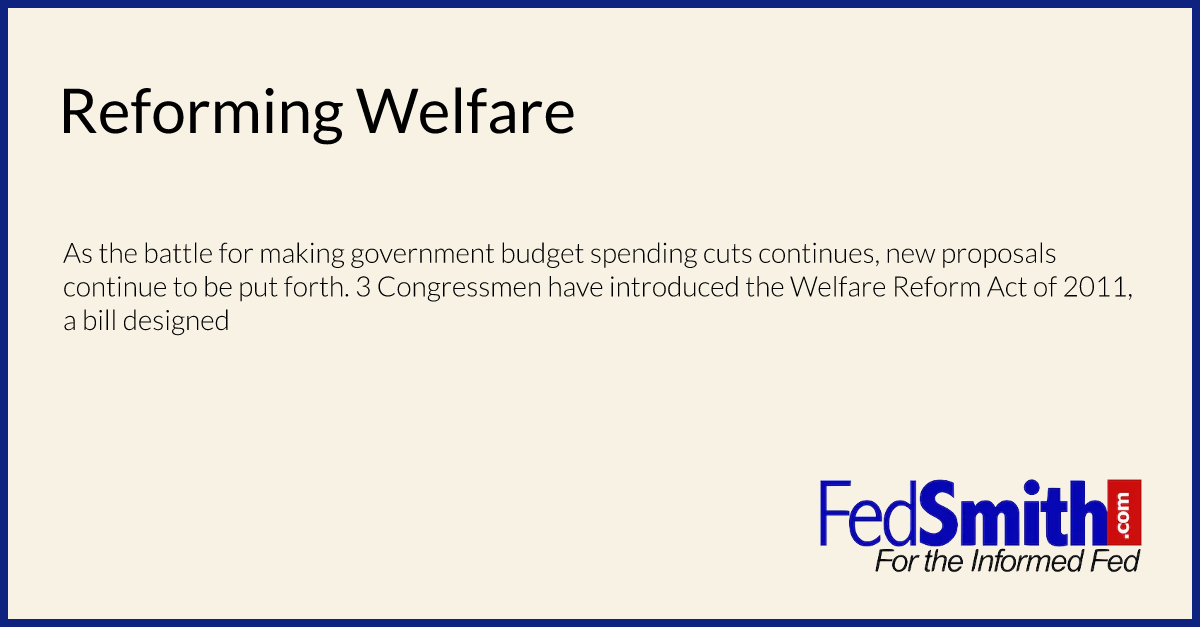 Republican Study Committee Chairman Rep. Jim Jordan (R-OH), Rep. Tim Scott (R-SC), and RSC Budget and Spending Task Force Chairman Rep. Scott Garrett (R-NJ) have introduced the Welfare Reform Act of 2011. This legislation will help food stamp recipients become independent of government assistance, give taxpayers a clearer picture of national welfare spending, and return the federal welfare budget to pre-recession levels after unemployment falls to 6.5%.  Currently, there are 77 means-tested federal programs that provide benefits specifically to poor and low-income Americans.
"Welfare's chief function should be to help people reach the point where they no longer need it," said Chairman Jim Jordan.  "Decades of experience prove we can't just throw money at the problem of poverty.  We need a smarter approach that promotes self-reliance and acknowledges the interconnected nature of all our anti-poverty programs.  At the end of the day, the most effective welfare benefit is the one that leads to a job."
"I am proud to be a principal co-sponsor of the Welfare Reform Act and will work with my colleagues to see this measure advance through the House," said Rep. Tim Scott.  "We have seen welfare spending continue to rise dramatically, even as the number of Americans living at or below the poverty level increases.  We should seek to break the cycle of poverty and offer a path to self-reliance, and with it, self-respect."
"The Welfare Reform Act takes the necessary step of reforming an antiquated system tainted with inefficiencies and consumed by costly government spending," said Rep. Scott Garrett.  "I'm proud to stand with my colleagues in supporting this important bill that streamlines our country's welfare system and promotes self-reliance as the solution to poverty in America."
Since President Johnson declared a War on Poverty in 1964, Americans have spent $16 trillion on welfare at the state and federal level.  Congressional Republicans and President Clinton enacted reforms in 1996 that required beneficiaries of a new program (TANF) to either work or prepare for a job.  Millions of families have since moved off the TANF rolls and begun to provide for themselves.
Despite the success of these reforms, national welfare spending has almost doubled since 1996 and could total more than $10 trillion over the next decade. Even with all these resources devoted to assistance for the poor, poverty is higher today than it was in the 1970s.
Key Points on the Welfare Reform Act of 2011
Building on the Success of 1996 – TANF-like reforms will help food stamp recipients become self-reliant by requiring able-bodied adult beneficiaries to work or prepare for a job.
Disclosure of National Welfare Spending – To provide taxpayers a clearer picture of the money they spend on means-tested welfare at all levels of government, each year the President's budget will report figures for total federal, state, and local welfare spending over the ensuing decade.
Return to Pre-Recession Budget – In the first budget written after unemployment falls to 6.5% or lower, overall federal spending on means-tested welfare will return to its 2007-level and be allowed to grow with inflation.