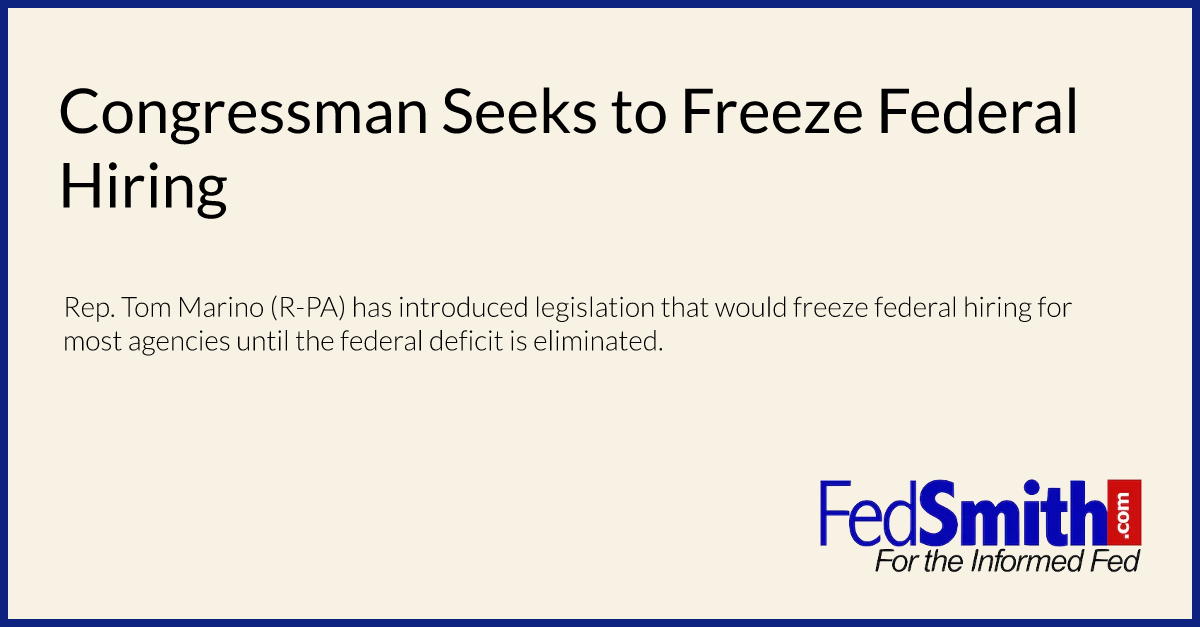 U.S. Rep. Tom Marino (R-PA) introduced legislation on May 5 that would freeze most federal hiring until the federal deficit is eliminated.
The Federal Hiring Freeze Act of 2011 (HR 1779) is the first bill introduced by the freshman Congressman since he took office on Jan. 5.
Marino said the bill calls for a "responsible" freeze on the federal workforce, allowing for what he calls "common-sense exceptions" during times of war or for law enforcement, and national security concerns.
The proposed freeze would affect all federal agencies except for: the U.S. Postal Service and Postal Regulatory Commission; federal law-enforcement positions; the reassignment of personnel within the same agency; short-term, seasonal hiring; or transitional positions involving a new presidential administration.
Marino, who introduced the legislation late Thursday, cited the nation's record $14 trillion debt and the estimated $1.6 trillion deficit as reasons behind the proposal.
"The time for talk is over; now is the time for action," Marino said. "We must stick to the trifecta of downsizing Washington, cutting spending, and keeping taxes low. If we do, we will see extraordinary results."
Marino said businesses in the 10th Congressional District and throughout the nation are being forced to furlough workers or to hold off on expanding or hiring because of the state of the economy. "We cannot allow the federal government to grow at record levels while we ask our business owners and families to be more frugal and to get by with a lot less," he said.
According to the Fiscal Year 2011 federal budget, the price tag for all federal employees was nearly $590 billion. The current federal workforce is 2.8 million, according to the Office of Personnel & Management. Of that total, 2.7 million workers are employed by the executive branch.
Marino's bill would go into effect for the first fiscal year after its passage and would terminate when the Office of Management and Budget determines that there is no longer an annual federal budget deficit.
The Federal Hiring Freeze Act of 2011 would require the President to provide quarterly reports to Congress describing all appointments made during that three-month period. Those reports would be available to the public, Marino said.
"This is all about accountability," Marino said. "This would require the executive branch to show us that it is abiding by the provisions of the law and force it to be accountable to Congress, and more importantly, to the citizens of the United States."