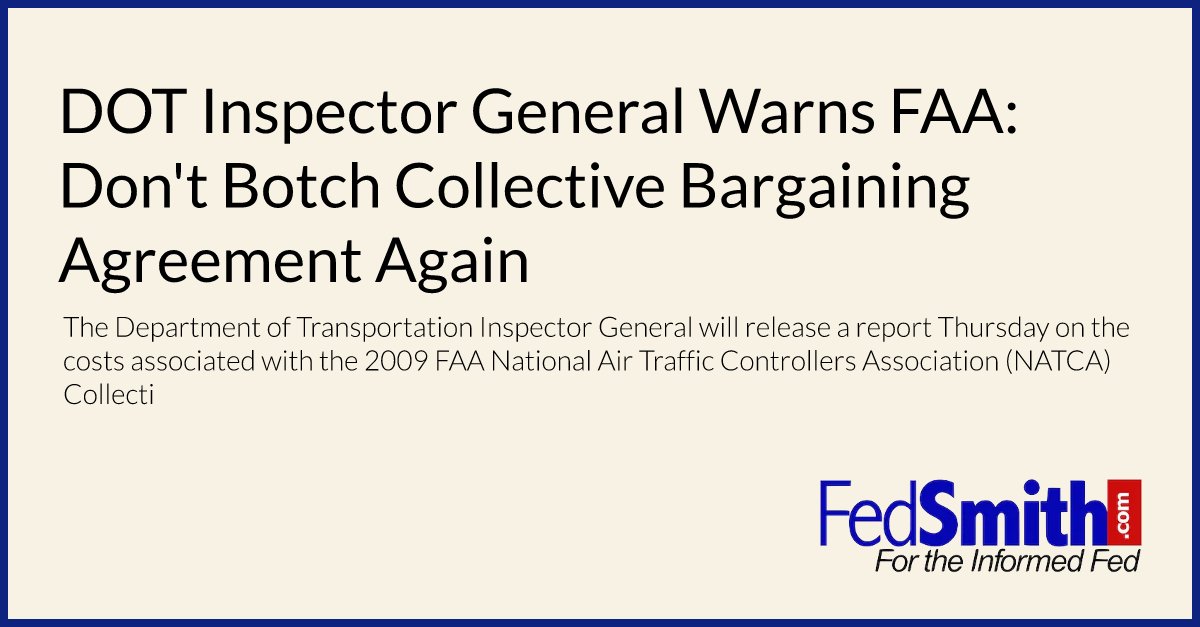 Today the Department of Transportation Office of Inspector General (DOT IG) will release a report on the costs associated with the 2009 Federal Aviation Administration (FAA) National Air Traffic Controllers Association (NATCA) Collective Bargaining Agreement (CBA) and warn FAA not to repeat costly mistakes of the past.
In October 2009, the FAA entered into a CBA with the air traffic controllers' union. U.S. Rep. John L. Mica (R-FL), Chairman of the Transportation and Infrastructure Committee, requested that the DOT OIG review the costs related to the 2009 CBA, given the significant cost overruns associated with the 1998 FAA/NACTA agreement. The DOT OIG's objectives were to evaluate the accuracy of FAA's cost estimate of the new CBA, identify contract provisions that could escalate the cost, and determine if FAA has sufficient controls in place to prevent such escalations.
The report determined that the 2009 CBA will cost the FAA $669 million more than it would have cost to extend the 2006 agreement. The OIG found that while FAA's approach to developing this estimate appears to be reasonable, it includes several provisions that could escalate costs beyond the already high estimation.
Similar provisions in the 1998 FAA/NATCA agreement led to significant additional costs—the FAA's initial cost estimate for the 1998 agreement was $200 million, but the agreement eventually required more than $1 billion in additional funds. These overruns spurred Chairman Mica's request that the OIG issue this report now, when the FAA has the opportunity to avoid repeating earlier mistakes.
Also included in the report are recommendations to FAA to update the contract cost estimate of the 2009 CBA annually to reflect any changes to the underlying assumptions and incorporate it into its annual budget request. This was included to address the fact that the FAA's personnel costs under the 2009 CBA were $14 million higher than it initially estimated for the first year of the contract.
"I requested that the DOT issue this report so that we can avoid repeating past mistakes that led to the outrageous costs associated with the 1998 Collective Bargaining Agreement," said Chairman Mica. "With this report, the FAA has been given fair warning that it must closely oversee the use of taxpayer money and put controls in place to avoid another $1billion bill that we can ill afford. It is crucial that we do all we can to protect the American taxpayer and ensure that those cost overruns are not repeated with the current agreement."