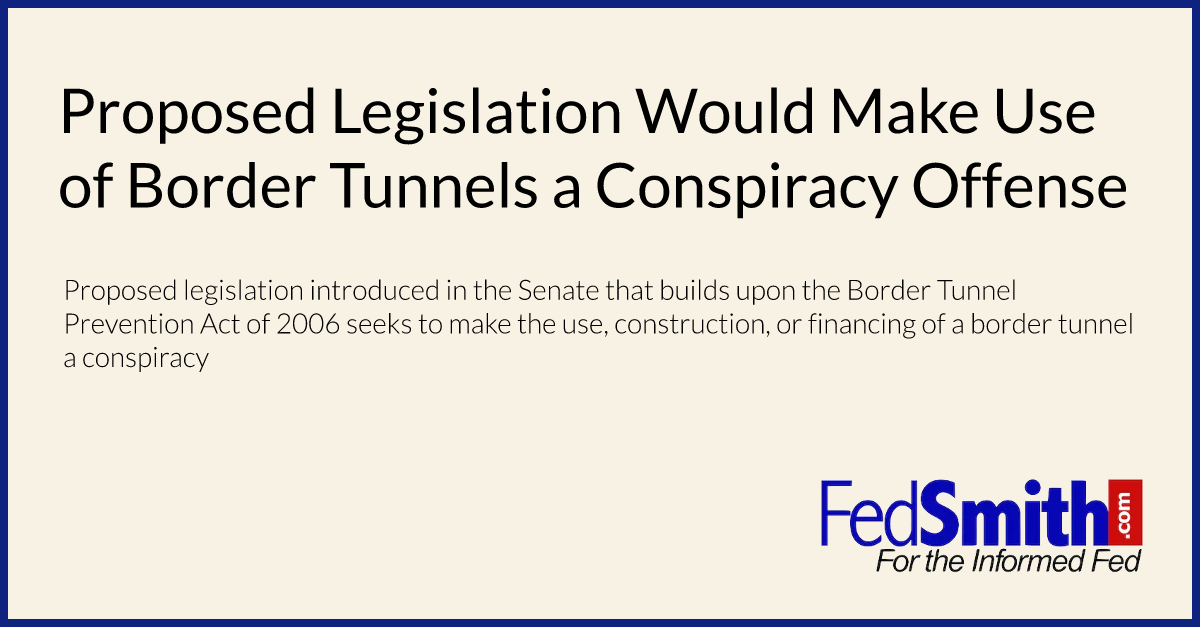 Senators Dianne Feinstein (D-CA), Jon Kyl (R-AZ), Mary Landrieu (D-LA),
and Claire McCaskill (D-MO) have introduced legislation to combat
illegal tunnel activity on the Southwest border.
The bill is dubbed the Border Tunnel Prevention Act of 2011 and
builds upon 2006 legislation (the Border Tunnel Prevention Act) that was
signed into law in 2007. The previous law "criminalizes the
construction, financing or use of an unauthorized tunnel or subterranean
passage across an international border into the United States.  It also
imposes a punishment for anyone who negligently permits others to
construct or use an unauthorized tunnel or subterranean passage on their
land."
The new bill would do the following:
Make the use, construction or financing of a border tunnel a conspiracy offense
Include
illegal tunneling as an offense eligible for Title III wiretaps even
when there are not drugs or other contraband to facilitate a wiretap
Specify border tunnel activity as unlawful under the existing forfeiture
and money laundering provisions to allow authorities to seize assets in
these cases
The Senators said that the border has become more
secure from investments in things such as fencing, surveillance
technology and additional agents, and subsequently those who are trying
to cross the border illegally have had to find other means to gain
access into the country, often by going underground.
According to Feinstein, "Underground tunnels on the southwest border
present a serious national security threat. As the U.S./Mexico border
has become more secure, smugglers have gone underground to evade border
enforcement. An astonishing 154 tunnels have been discovered since May
1990. On a recent visit to San Diego, I saw a sophisticated tunnel –
close to half a mile long – stretching from an abandoned warehouse to
Tijuana, Mexico.  Designed with tracks and pulleys, smuggling tunnels
are growing along border states to transport drugs, and can be used to
transport weapons and people."
Kyl stated, "Arizona has more illegal tunnels under its border with
Mexico than any other state. These tunnels pose a serious danger to not
only the people who use them, but to our national security as well,
since it affords smugglers an unfettered means to illegally transport
people and narcotics into our country. The U.S. must step up its effort
to deter and detect tunnel use."
Companion legislation will be introduced in the House of Representatives by Congressman Silvestre Reyes (D-TX).