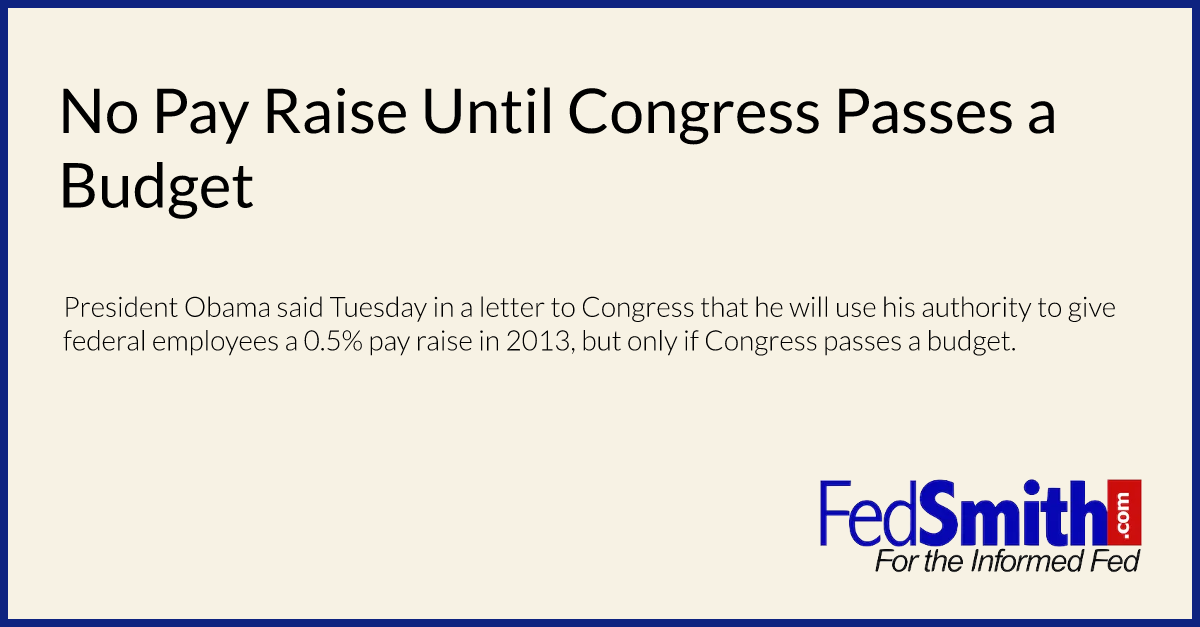 President Obama said Tuesday in a letter to Congress that he will use his authority to give federal employees a 0.5% pay raise in 2013, but only if Congress passes a budget. Locality pay would remain unchanged.
There has been ongoing debate in Congress on federal pay with some proposals from the House suggesting extending the pay freeze as far forward as 2015. The White House is on record as being against extending the current pay freeze, having said federal employees deserve a raise in 2013, and announced earlier this year this year as part of its budget proposal that it wanted to break the pay freeze for the federal workforce with a 0.5% pay increase.
What are the chances Congress passes a budget? So far, they don't look so good. Its inability of late to pass one has led to frustration among some members, leading to legislative proposals to incentivize Congress to pass a budget. Rep. Randy Hultgren (R-IL), for example, proposed legislation after the shutdown fiasco last year which said that Congress would have to pass a budget and all appropriations bills to fully fund the government, otherwise members of Congress wouldn't get paid. 
An announcement was made at the end of July that Congress and the White House have agreed to a six month continuing resolution to fund the government through the early part of FY 2013. Since this would expire at the end of next March, a pay raise for the federal workforce is out of the question until at least April per the president's announcement.
AFGE said that it sees the president's announcement as an extension of the pay freeze.
In a statement, AFGE national president J. David Cox Sr. said, "He (President Obama) could have used his authority under the Federal Employees Pay Comparability Act (FEPCA) to set the pay alternative pay plan at 0.5 percent. Instead he has contradicted his own fiscal year 2013 budget promise of an end to the pay freeze. President Obama not only proposed a 0.5 percent federal pay adjustment for January 2013, he has also repeatedly referred to his support for an end to the two-year pay freeze in numerous statements to Congress."
The text of the president's letter to Congress is included below.
Dear Mr. Speaker:   (Dear Mr. President:)
I am transmitting an alternative plan for pay increases for civilian Federal employees covered by the General Schedule and certain other pay systems for 2013.

Title 5, United States Code, authorizes me to implement alternative pay plans for pay increases for civilian Federal employees covered by the General Schedule and certain other pay systems if, because of "national emergency or serious economic conditions affecting the general welfare," I view the adjustments that would otherwise take effect as inappropriate. Civilian Federal employees have already made significant sacrifices as a result of a two-year pay freeze.  As our country continues to recover from serious economic conditions affecting the general welfare, however, we must maintain efforts to keep our Nation on a sustainable fiscal course.  This is an effort that continues to require tough choices and each of us to do our fair share.

Accordingly, I have determined that it is appropriate to exercise my statutory alternative plan authority under 5 U.S.C.5303(b) and 5304a to set alternative 2013 across-the-board and locality pay adjustments.  Specifically, I have determined that for 2013, across-the-board pay increases will be 0.5 percent,and the current locality pay percentages shown in Schedule 9of Executive Order 13594 of December 19, 2011, will remain at their 2012 levels.  This decision will not materially affect the Federal Government's ability to attract and retain a well-qualified Federal workforce.

Finally, with respect to the anticipated continuing resolution, Congress should maintain current pay rates during the period of the continuing resolution.  Assuming such a continuing resolution is enacted, the adjustments described above would take effect after the continuing resolution expires.

Sincerely, BARACK OBAMA