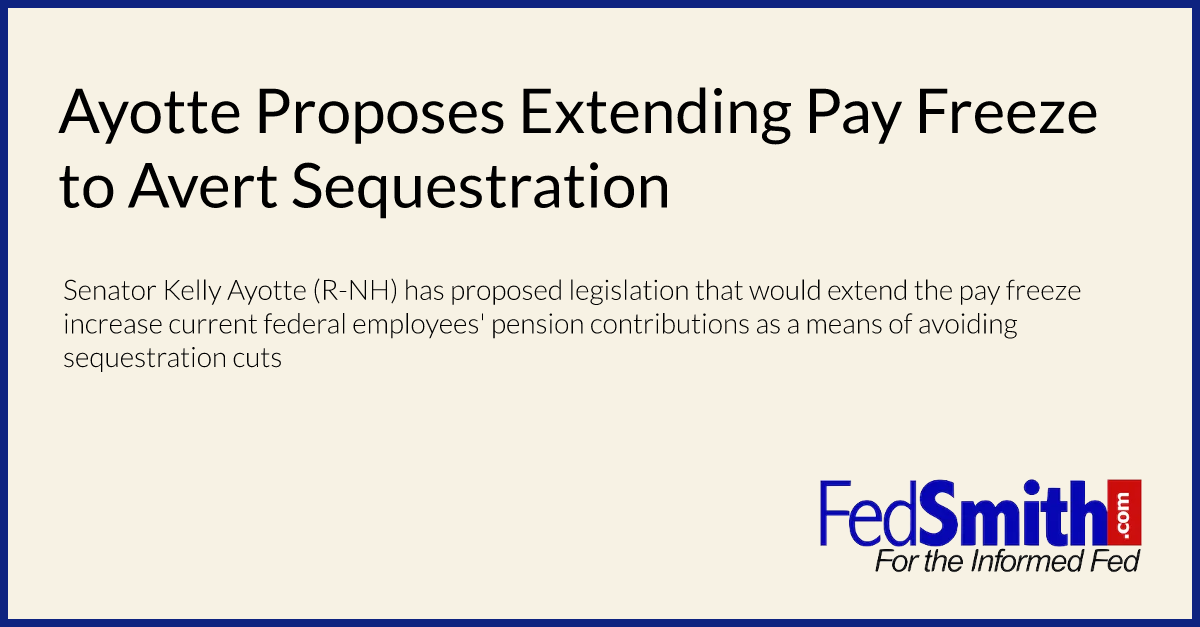 Senator Kelly Ayotte (R-NH) has proposed legislation that would extend the pay freeze through 2014 and increase current federal employees' pension contributions by 2.3 percent over three years as a means of avoiding sequestration cuts.
The Senate has said that it would not consider a vote on Ayotte's proposed legislation, however, making it a certainty that it will not go forward.
"I think it's time for us to stop the charade," said Senator Ayotte. "With the clock ticking, it's my hope that we actually get down to resolving this in a responsible way for our country, by finding alternative savings to replace sequestration while still addressing our deficit. That's why I put pen to paper, to provide an alternative to the leadership-backed bills and demonstrate that we can find alternative savings to address sequestration without raising taxes. "
The 2013 Sequester Replacement and Spending Reduction Act contains proposals that come from the recommendations put forth by the Simpson-Bowles Commission, whose original plan failed to advance to Congress for a vote.
National Association of Government Employees national president David Holway said in a statement, "Continuing to target federal employees' pay and benefits sends the wrong message to the federal workforce whose mission it is to protect the country and provide important services to the American public. Congress will only diminish the strength of the federal workforce and hinder the progress of the country, if it continues to use federal workers as a national piggy bank."
NFFE national president William R. Dougan added, "Here we go again. Rather than proposing a serious solution to sequestration, Senator Ayotte and her GOP colleagues have chosen to dust off well-worn attacks on federal employees that do nothing to fix the problem."