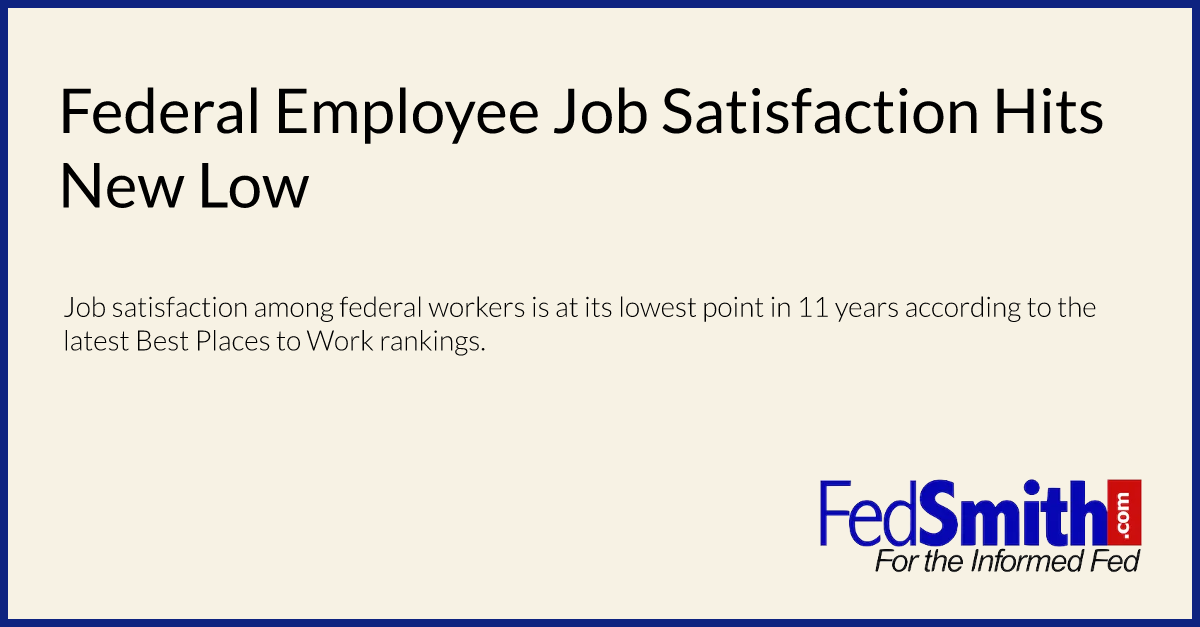 Job satisfaction among federal workers is at its lowest point in 11 years according to the latest Best Places to Work rankings. This finding echoes the results from the 2014 Federal Employee Viewpoint Survey conducted by OPM which showed an overall decline in employees' satisfaction with their jobs.
The analysis is released annually by the Partnership for Public Service and Deloitte to provide an illustration of how federal employees view their jobs and workplaces.
The 2014 data show a decline in morale among federal workers with their jobs and workplaces for a fourth consecutive year and the lowest overall score since the workplace rankings were launched in 2003. Job satisfaction and commitment came in at 56.9 out of 100. To put this in perspective, private sector employee satisfaction in 2014 stood at 72 out of 100.
Among individual federal organizations, 44.4% of large agencies, 60.9% of mid-size agencies, 62.1% of small agencies experienced a decline in employee satisfaction in 2014.
So which agencies were rated among the best ones at which to work by their employees? Here are the top 10 large agencies as defined in the 2014 ratings:
NASA
Department of Commerce
Department of State
Intelligence Community
Department of Justice
Social Security Administration
Department of Health and Human Services
Department of Transportation
Department of the Treasury
Department of Labor
The top 10 medium sized agencies are as follows:
Federal Deposit Insurance Corporation
Government Accountability Office
Smithsonian Institution
Federal Trade Commission
Federal Energy Regulatory Commission
Nuclear Regulatory Commission
National Credit Union Administration
Architect of the Capitol
Federal Communications Commission
Office of Personnel Management
The most improved large agency is the Department of Labor, an agency whose score increased by 3.1 points. The Securities and Exchange Commission was the most improved mid-sized agency, experiencing a 4.9 point increase over last year.
Speaking on the 2014 Best Places to Work ratings, Partnership for Public Service President and CEO Max Stier said, "Federal employees have raised a number of important concerns that call out for federal leaders to take immediate action to improve government operations. The Best Places to Work results also illustrate the need for fundamental management reforms across government to ensure that agencies can effectively meet the needs of the American people."
The vast majority of the data used to develop the scores and rankings of the 2014 Best Places to Work in the Federal Government was collected by the Office of Personnel Management's Federal Employee Viewpoint Survey from April through June 2014.