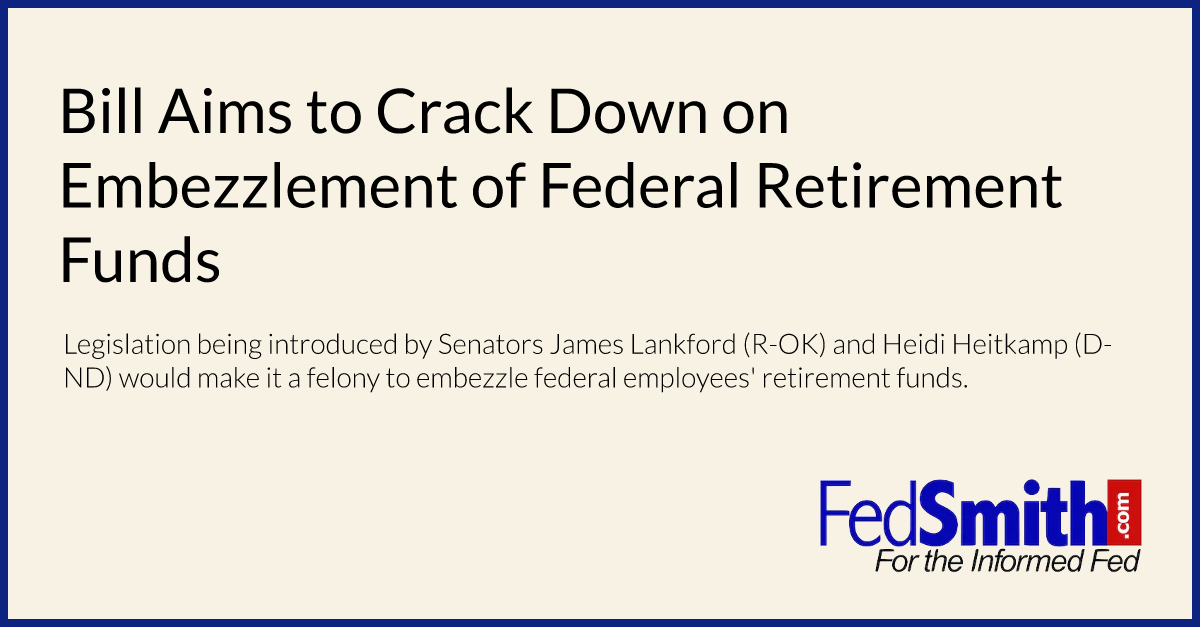 Legislation being introduced by Senators James Lankford (R-OK) and Heidi Heitkamp (D-ND) would make it a felony to embezzle federal employees' retirement funds.
Known as the Representative Payee Fraud Prevention Act of 2015 (S. 1576), the legislation would give U.S. attorneys the statutory authority to prosecute retiree representatives who misuse funds from the Federal Employees Retirement System (FERS) and the Civil Service Retirement System (CSRS).
The Senators say that due to an increase in embezzlement of government benefits by dishonest representatives and caregivers of retirees, legislative solutions such as theirs are needed to help prevent the misuse of these retirement funds that the government pays.
"Just as so many other Americans do, federal workers rely on their savings and pensions which they worked hard for to retire with dignity," said Heitkamp. "Most financial caregivers are loved ones who selflessly step in to manage the finances for retirees who are unable to do so, but we have heard about a few bad actors who are stealing that money from retirees. Such harsh actions deserve harsh punishments. Our bipartisan bill would help deter these activities by imposing criminal penalties on financial caregivers who prey on some of our most vulnerable federal retirees and beneficiaries. By taking this commonsense step, we can provide needed protections for these individuals and families and make sure they are treated with the respect and care they deserve."
By classifying theft of federal retirement funds a felony, the legislation would provide the same protections that Social Security and Veterans payees currently receive.