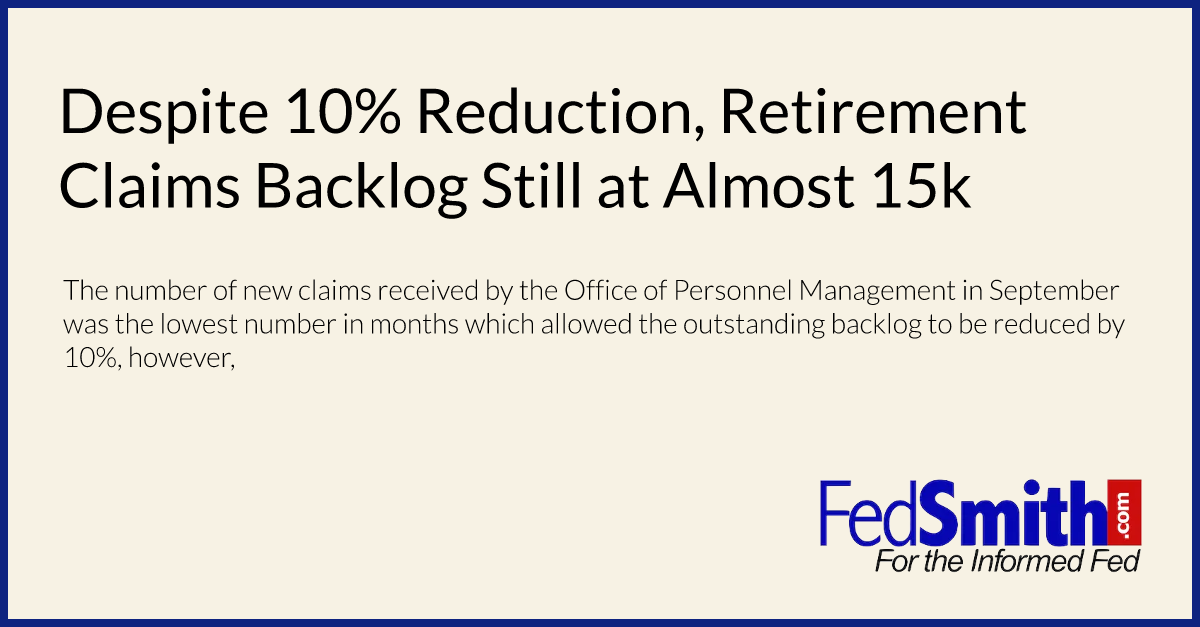 The number of new claims received by the Office of Personnel Management was the lowest its been in a month since April which allowed the agency to reduce the outstanding backlog of claims by 10%. That wasn't enough, however, to get the backlog down below the 10,000 mark.
The total backlog went from 16,350 to 14,706. 6,300 new claims were received in September, and OPM was able to process 7,944 which accounted for the reduction in the backlog.
OPM had estimated that the total backlog would be at 11,042 at the end of September, so it missed that mark by 33%. The total backlog is also higher than it was a year ago, most likely due to the large number of new claims that were received in 2015, particularly in January, February and July.
The latest data are included below.
Month
Projected Claims Received
Projected Claims Processed
Projected Inventory
Claims Received
Claims Processed
Inventory
% Processed in 60 days or less (YTD)
Oct-13
8,400
11,500
19,142
7,484
11,027
14,176
Nov-13
8,400
11,500
16,042
5,672
5,714
14,134
Dec-13
8,400
11,500
12,942
4,952
6,449
12,637
Jan-14
19,000
8,700
23,242
17,383
8,724
21,296
Feb-14
9,800
9,400
23,642
12,025
9,767
23,554
Mar-14
6,400
10,400
19,642
6,831
11,812
18,573
Apr-14
6,500
9,300
16,842
8,047
10,002
16,618
May-14
6,800
9,000
14,642
8,431
10,498
14,551
76.6%
Jun-14
8,000
8,100
14,542
6,627
8,787
12,391
77.3%
Jul-14
8,000
8,100
14,442
9,101
7,872
13,620
77.9%
Aug-14
7,400
8,000
13,842
6,795
7,318
13,097
78.5%
Sep-14
7,300
8,000
13,142
6,350
6,680
12,767
78.8%
Oct-14
7,800
8,500
12,442
10,155
8,785
14,137
83.2%
Nov-14
7,600
7,800
12,242
5,746
5,844
14,039
83.4%
Dec-14
5,600
6,500
11,342
4,077
6,447
11,669
83.7%
Jan-15
19,000
8,700
21,642
18,629
7,662
22,636
80.2%
Feb-15
9,700
9,800
21,542
9,219
7,841
24,014
80.6%
Mar-15
6,400
11,000
16,942
5,478
8,898
20,594
81.6%
Apr-15
6,700
9,600
14,042
6,292
8,660
18,226
72.6%
May-15
7,100
9,100
12,042
7,845
10,697
15,374
68.0%
Jun-15
7,500
8,000
11,542
6,920
7,783
14,511
68.7%
Jul-15
8,000
8,100
11,442
9,862
7,918
16,455
69.0%
Aug-15
7,400
7,600
11,242
7,341
7,446
16,350
69.6%
Sep-15
7,300
7,500
11,042
6,300
7,944
14,706
70.1%