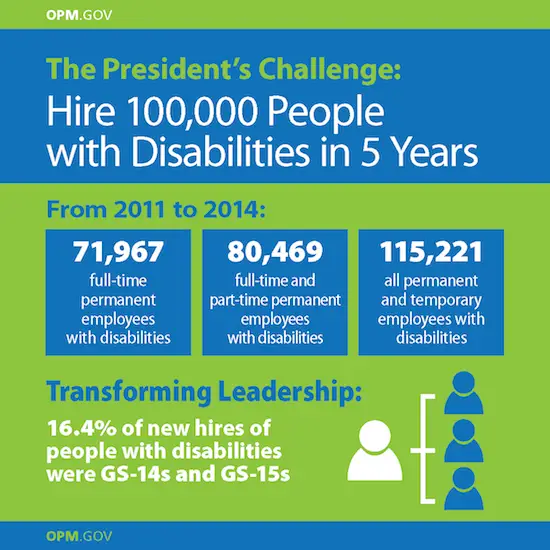 A new report from the Office of Personnel Management shows that the government is well on the way of meeting the Obama administration's quota of hiring 100,000 disabled individuals within the federal government in five years.
According to the latest data, from 2011 to 2014, almost 72,000 full time permanent employees were hired. If part time employees are included, the figure goes to 80,500.
The complete report (Report on the Employment of Individuals with Disabilities in the Federal Executive Branch, FY 2014) is included below.
OPM director Beth Cobert wrote in a recent blog post, "At the end of fiscal year 2014, there were more people with disabilities working in the Federal government – by percentage share and by real numbers – than at any time since we started record-keeping 34 years ago. In the past year alone, the share of people with disabilities in the Federal workforce went from 12.8 percent to 13.6 percent. Of the new hires of people with disabilities, 16.4 percent were at the GS 14 and 15 levels."
Cobert went on to say, "I'm proud of the work we have done with agencies across government to help make this happen. We are also looking to improve on these totals. We will share the data from fiscal year 2015 when it's ready."