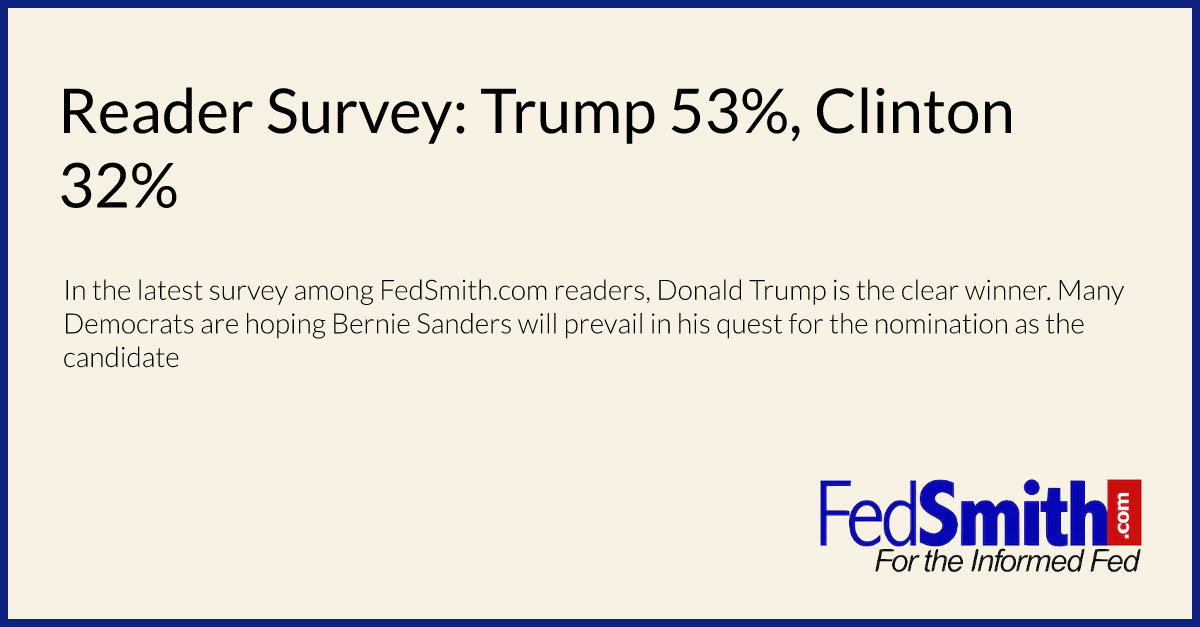 With the field of candidates seeking the nomination of their respective party to become the next president of the United States continuing to narrow, we asked readers about their preferences. About 2,500 readers expressed their opinion with the following overall results:
| | |
| --- | --- |
| Hillary Clinton | 32% |
| Donald Trump | 53% |
| I would not vote | 5% |
| Other | 10% |
Numerous people were mentioned as another preferred candidate. The most popular "other" selection was Bernie Sanders, while Libertarians prefer the Libertarian candidate, Gary Johnson. Others mentioned by readers include John Kasich, Mitt Romney and Marco Rubio.
While Hillary Clinton is often described as having an insurmountable lead for the nomination from the Democratic party, a number of people are strong supporters of Mr. Sanders. No doubt, the vote for Mrs. Clinton was lowered because a number of people identifying themselves as Democrats still prefer her opponent, Bernie Sanders, to become the Democrats' nominee.
We anticipate the totals will change once the Democrats have settled on a candidate because, while Mrs. Clinton may see herself as the presumptive nominee, the number of people indicating a preference for Mr. Sanders indicates many voters are not convinced she is the best choice. No one knows how those preferring to see Bernie Sanders as the Democrats' candidate will vote in the general election if he is not the chosen candidate—or if they will decide to vote at all.
Party Affiliation of Survey Voters
In many of our surveys, independent voters are often the largest bloc of voters. In this instance, the number of Republicans is virtually identical to the number of independents. Here is how the voters in this survey describe their party affiliation.
| | |
| --- | --- |
| Democrat | 29% |
| Republican | 33% |
| Independent | 33% |
| Libertarian | 2% |
| Other | 3% |
Trump Wins Among Independents
Independents may decide who wins the next presidential election. In this survey, the choice of the independent voters was clear as Donald Trump was the big winner among this group of voters. Here are the results which are rounded off to the nearest percentage:
| | |
| --- | --- |
| Hillary Clinton | 24% |
| Donald Trump | 58% |
| I would not vote | 6% |
| Other Candidate | 13% |
14% of Democrats Would Vote for Trump
73% of those voting indicate they would vote for Hillary Clinton. What is surprising, however, is that 14% of Democrats indicate they will vote for Mr. Trump. Here is the breakdown among Democrats voting in this survey:
| | |
| --- | --- |
| Hillary Clinton | 73% |
| Donald Trump | 14% |
| I would not vote | 3% |
| Other Candidate | 10% |
84% of Republicans Support Trump
Donald Trump, as the presumptive Republican nominee, has strong support among those who identify themselves as Republicans. 6% of Republicans indicated they would support Mrs. Clinton.
| | |
| --- | --- |
| Hillary Clinton | 6% |
| Donald Trump | 84% |
| I would not vote | 5% |
| Other Candidate | 5% |
At the time this very recent poll was taken, it is apparent the continued candidacy of Bernie Sanders, the Independent Senator from Vermont, is hurting the ability of Hillary Clinton to amass a strong showing among all Democrats. Moreover, there is a strong preference among Independents for Donald Trump.
Once the nominees are official for each party, we anticipate there will be significant changes in the voting totals for each candidate. There appears to be hope among some Democrats that Mr. Sanders will prevail in his quest for the nomination. If, as current delegate totals indicate, Mrs. Clinton does clinch the nomination, the reaction of these voters will be important in determining who prevails in the general election for president in November.