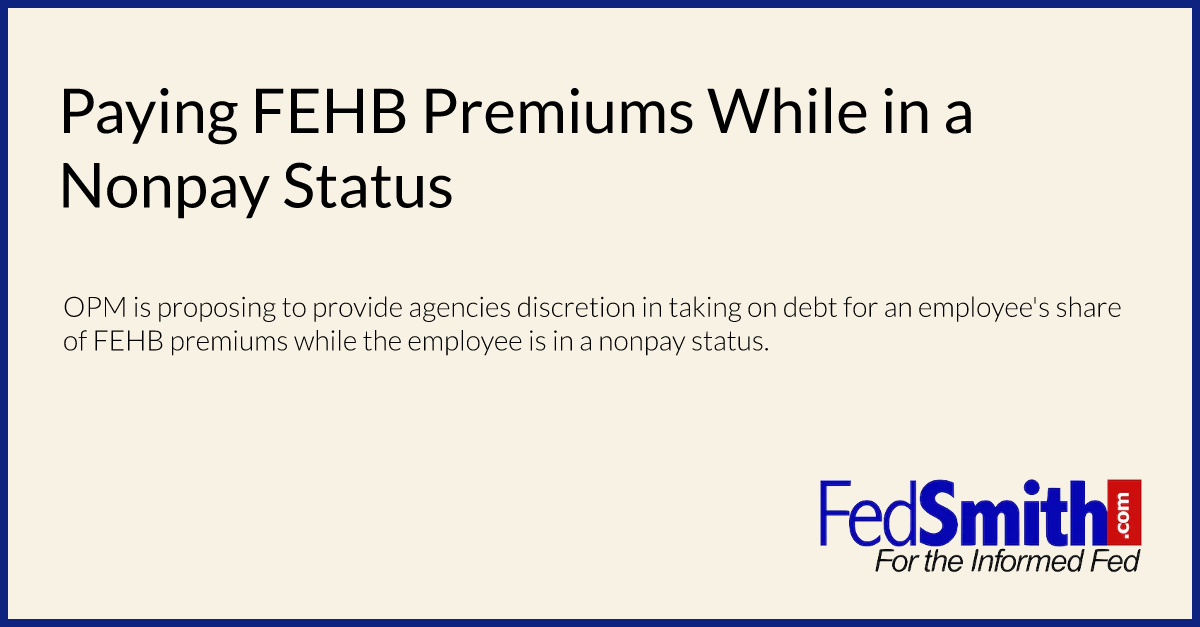 The Office of Personnel Management (OPM) is issuing a proposed rule  premium payments under the Federal Employees Health Benefits (FEHB) program. The proposed rule only concerns FEHB coverage for employees entering leave without pay (LWOP) or other non-pay status. The rule would not apply to non-payment of premiums due to a lapse of government appropriations.
The proposed regulation would also impact employees who do not have pay that is sufficient to cover their cost of the FEHB premiums.
Current Requirements
Under current regulations, an agency pays the employee's share and the government's share of FEHB premiums if an employee is in a non-pay status and elects to continue coverage and repay the agency at a future time.  In other words, the agency must allow an employee to incur a debt as a result of paying the employee's FEHB premiums.
This may result in an agency incurring significant debt.
Proposed Rule
The proposed rule would allow an agency to require that all of its employees in LWOP or other nonpay status pay their share for FEHB coverage directly to the agency. They could also be required to keep the payments current if they want to continue FEHB coverage.
Under the proposed rule, an agency could require an employee to pay premiums directly to the agency and to keep the payments current. The agency would be required to have all employees in non-pay or insufficient pay status pay their premiums on time. The proposed rule also specifies the procedures for removing an employee from the FEHB if the premium payments are not made.
In short, OPM is proposing that agencies have discretion to require employees in a nonpay status to be advanced enough of their basic pay to pay their portion of the FEHB premium. The agency's decision would have to apply to all employees in non-pay or insufficient pay status. An agency would not be allowed the discretion to decide how to proceed on a case-by-case basis.