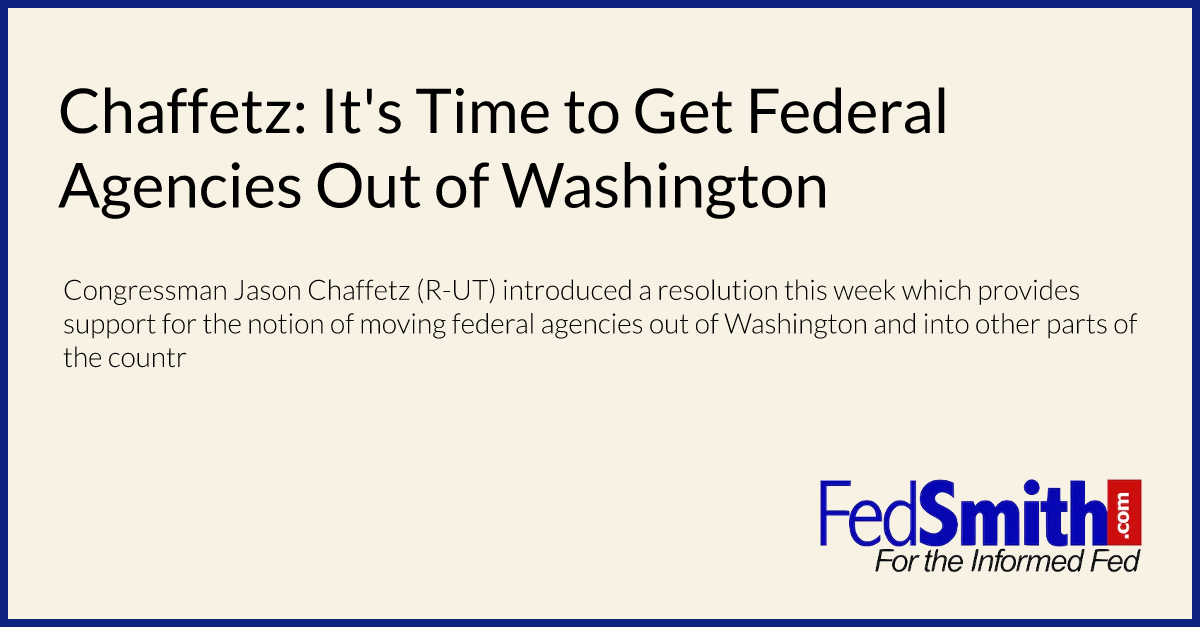 Congressman Jason Chaffetz (R-UT) introduced a resolution (H. Res. 38) this week which expresses Congressional support for the relocation of federal agencies away from Washington, DC.
Chaffetz said that getting agencies out of Washington would bring government closer to the American people by evaluating which agencies might better serve their purposes elsewhere.
Among some of the reasons cited for moving agencies out of Washington include:
With modern day travel and communication technology, agencies are easily able to perform their duties from locations outside of Washington
Having agencies in other cities would bring economic benefits to those areas
There is a correlation between the centralization of Federal agencies in the District of Columbia and the median income of the metropolitan area of the District of Columbia, which is higher than the median income of the United States
The impact of regulations created by the agencies would be more easily perceived by the people affected if agencies were in other areas
In a statement about the bill, Chaffetz said:
Government needs to be closer to the people it regulates. As it stands, decision makers at various agencies are largely shielded from the impact of their decisions. Housing federal agencies in a city with one of the highest median incomes in the United States is not only expensive, but keeps federal bureaucrats in an economic and political bubble that offers a distorted view of the realities facing this country.

This resolution is the first step toward decentralizing federal agencies and initiating a process that shares the wealth of stable federal jobs with other communities across the United States. I look forward to working with my colleagues on legislation to identify locations where these agencies can best serve the American people.