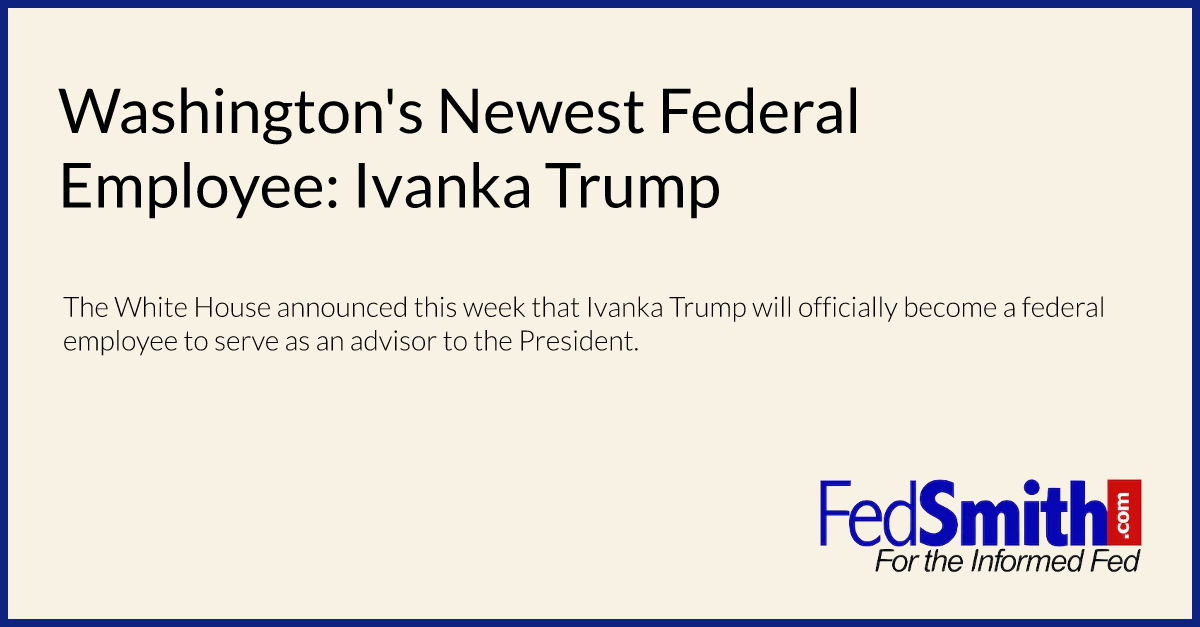 The federal workforce officially has a new, high profile employee: Ivanka Trump.
The New York Times reported yesterday that she will become an official federal employee serving as an advisor to her father, President Donald Trump, in the White House.
She joins her husband, Jared Kushner, who recently began leading a new White House office announced Monday, the White House Office of American Innovation. The new office will focus on implementing policies and scaling proven private-sector models to spur job creation and innovation.
Her salary? $0. Trump will be unpaid in her capacity as an advisor.
Ethics questions were raised when it was announced that Ms. Trump would be serving as an informal advisor to the president without actually being an employee.
Democracy 21, a watchdog group whose role is to "make democracy work for all Americans," sent a letter to White House Counsel Donald F. McGahn II to "express the highly unusual and inappropriate arrangement that is being proposed for Ivanka Trump, the President's daughter, to play a formalized role in the White House without being required to comply with the ethics and disclosure requirements that apply to White House employees."
Two Senators also raised concerns about Ivanka Trump's compliance with ethics rules. In a letter sent on March 29, Senators Tom Carper (D-DE) and Elizabeth Warren (D-MA) asked the director of the Office of Government Ethics for information about the ethics rules with which Trump will have to comply.
The announcement that Ms. Trump would formally become a federal employee was designed to alleviate the ethics concerns.
"I have heard the concerns some have with my advising the president in my personal capacity while voluntarily complying with all ethics rules, and I will instead serve as an unpaid employee in the White House Office, subject to all of the same rules as other federal employees," Ms. Trump said in a statement.
Ms. Trump's lawyer said in a statement, "She [Trump] will file the financial disclosure forms required of federal employees and be bound by the same ethics rules that she had planned to comply with voluntarily."
The White House said it was pleased with Ms. Trump's new position in a statement and added, "Ivanka's service as an unpaid employee furthers our commitment to ethics, transparency, and compliance and affords her increased opportunities to lead initiatives driving real policy benefits for the American public that would not have been available to her previously."