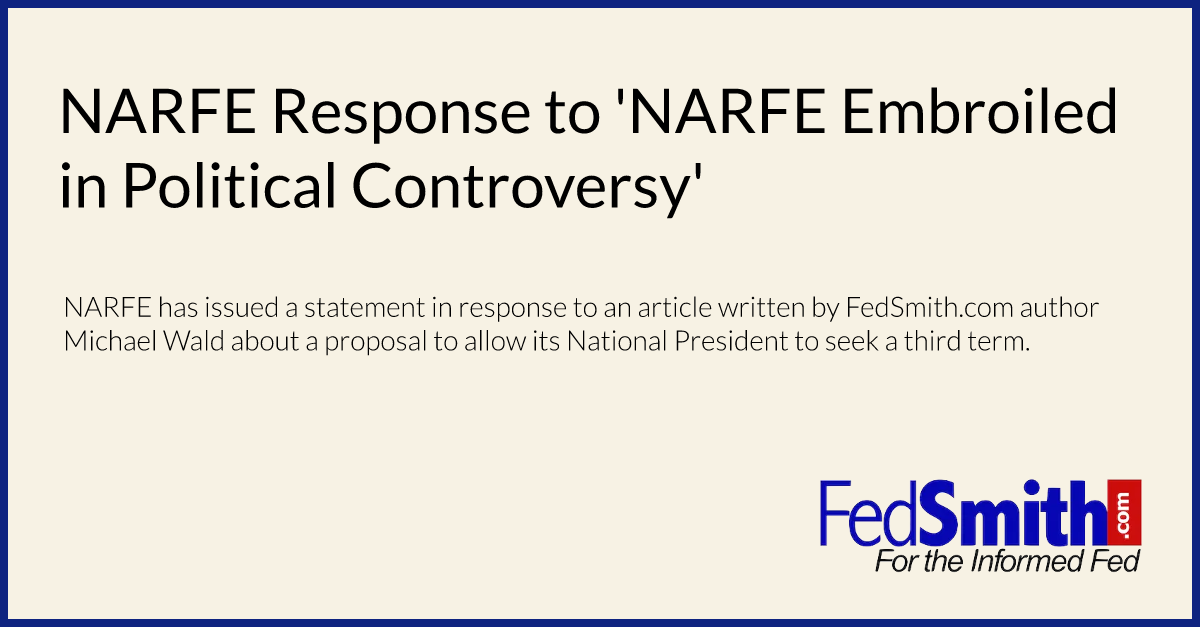 As the chair of the Strategic Planning Committee for the National Active and Retired Federal Employees Association (NARFE), I would like to correct inaccuracies, and challenge implications, that were contained in the June 22, 2017 article, NARFE Embroiled in Political Controversy.
First, I take issue with the implication that NARFE "claims" to focus on protecting and enhancing the earned pay, retirement and health care benefits of federal employees, retirees and their survivors. That is a cavalier description of the efforts to advance NARFE's mission undertaken by the thousands of dedicated NARFE leaders around the country who volunteer their time and the hundreds of thousands of NARFE members who contribute financially and join grassroots efforts to engage their representatives to protect what federal employees and retirees have rightfully earned.
Second, NARFE's Strategic Planning Committee, which has been leading an effort to reinvigorate and reform NARFE to ensure its future success in advancement of its mission and support of its membership, made the recommendation to seek membership approval for a revision of the presidential term limit rule. The recommendation was not put forth by the sitting National President; and while the National Executive Board is allowing the vote, it has not taken a position on the resolution itself. In fact, the board has explicitly communicated that its action should not be construed as an endorsement one way or the other.
There are too many additional inaccuracies to address in this response and, in any event, they miss the point. Any proposal placed before the NARFE membership that might provide a means by which the provision concerning terms for the president would be changed requires a two-thirds vote of the membership. If it does not meet that threshold, the issue will fail. If it passes, the sitting president must still run for and win the office.
This is not a fait accompli in any sense. The matter is being presented to the full membership, which is the deciding body, not the handful of members who may have been the source of the many erroneous claims in your article. It will stand or fall on its merits, not the politics.
Jon Dowie
Chair, Strategic Planning Committee & National Secretary-Treasurer
National Active and Retired Federal Employees Association (NARFE)