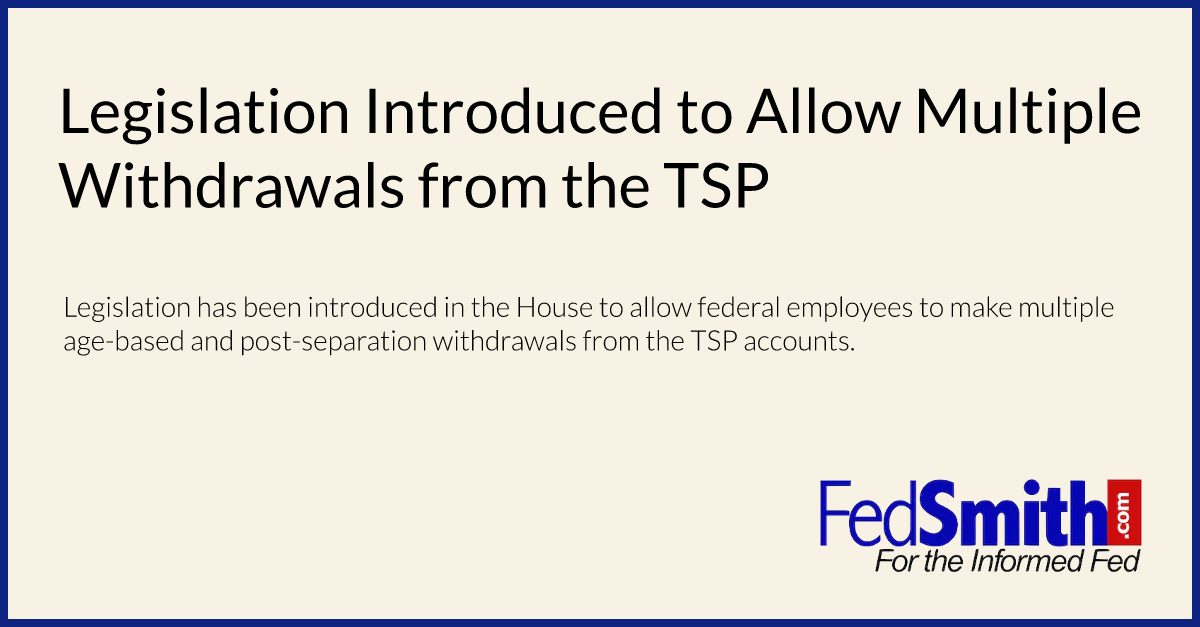 Legislation has been introduced in the House of Representatives to allow federal employees to make multiple age-based and post-separation withdrawals from their Thrift Savings Plan accounts.
The TSP Modernization Act of 2017 (H.R. 3031) was introduced by Congressmen Mark Meadows (R-NC) and Elijah Cummings (D-MD).
The bill would allow TSP participants to do the following:
Make multiple age-based and post-separation withdrawals
Revise the timing and amounts of periodic payments
Elect to combine partial withdrawals or an annuity with periodic payments
The bill would also eliminate automatic annuities as a default option in the absence of an election by participants.
Under current law, TSP participants are limited to one withdrawal from their accounts while in federal service upon reaching the age of 59 1/2 (age-based withdrawal), and participants who leave federal service can make only one withdrawal of a portion of the balance in their account (post-separation withdrawal). The Congressmen say this should be changed.
"Our bipartisan bill would better align the TSP with other retirement plans offered by the private sector and state and local governments, and it would encourage participants to keep their TSP accounts to take advantage of low administrative fees even after they retire or separate from federal service," Cummings said. "I thank the Federal Retirement Thrift Investment Board for working with us on this common-sense bill to give TSP participants what they want: greater flexibility to withdraw money from their accounts to address unexpected life events."
Companion Legislation in the Senate
Similar legislation was introduced in the Senate earlier this year. The TSP Modernization Act (S. 873) was introduced in April by Senators Rob Portman (R-OH) and Tom Carper (D-RI). Like the House bill, it would expand TSP withdrawal options.
A press release from Senator Portman suggested that at least some of the impetus for the bill was to encourage federal employees to leave money inside of the TSP after leaving federal service. For details on the Senate bill, see Legislation Would Expand TSP Withdrawal Options.
The bill has the support of the Federal Retirement Thrift Investment Board (FRTIB), National Active and Retired Federal Employees Association (NARFE), and the American Federation of Government Employees (AFGE) and the National Treasury Employees Union (NTEU).