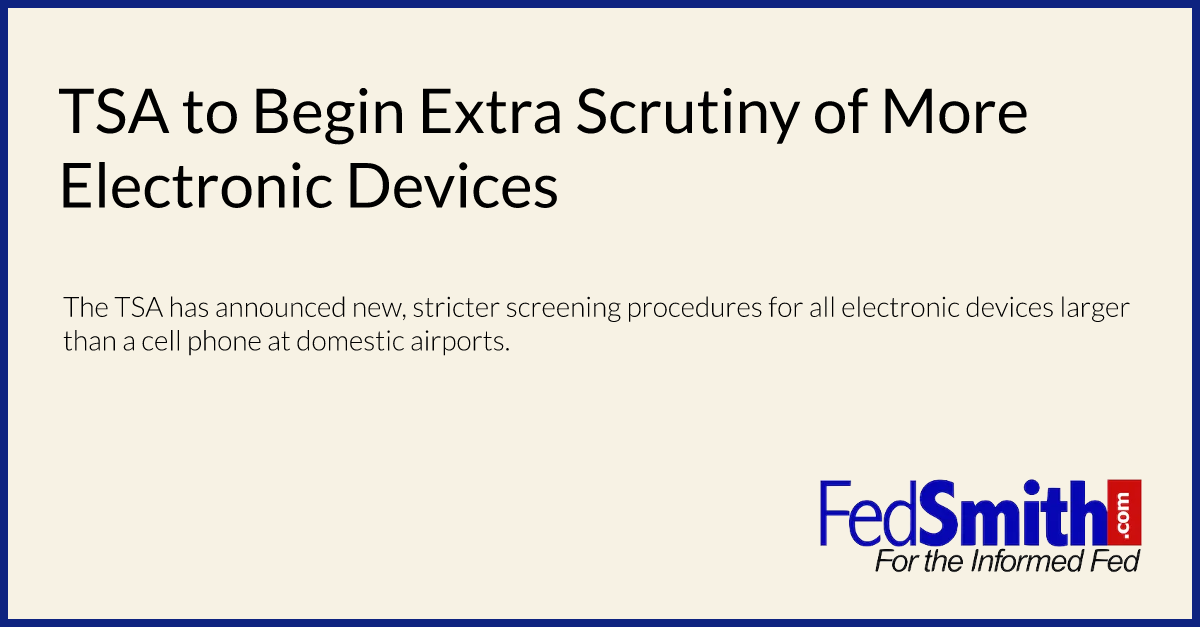 The Transportation Security Administration announced today that it will begin extra levels of screening procedures for smaller electronic devices. The new procedures will require travelers to place all electronics larger than a cell phone, such as tablets or e-readers, in bins for X-ray screening in standard lanes.
As the new procedures are phased in, TSA officers will begin to ask travelers to remove qualifying electronics from their carry-on bags and place them in a bin with nothing on top or below, similar to how laptops are currently screened. The TSA said passengers may encounter more bag checks as a result of the new procedures.
The new requirements will not apply to TSA Pre✓® enrollees who use the designated TSA Pre✓® lanes.
The new screening procedures in standard lanes are already in place at the following 10 U.S. airports with plans to expand to all airports during the weeks and months ahead:
Boise Airport (BOI)
Colorado Springs Airport (COS)
Detroit Metropolitan Airport (DTW)
Fort Lauderdale-Hollywood International Airport (FLL)
Logan International Airport (BOS)
Los Angeles International Airport (LAX)
Lubbock Preston Smith International Airport (LBB)
Luis Muñoz Marín International Airport (SJU)
McCarran International Airport (LAS)
Phoenix Sky Harbor International Airport (PHX)
The TSA described the new requirements as "stronger domestic security measures" and said they are being instituted to keep travelers safe, however, the agency didn't elaborate in its press release what threats were posed by the electronic devices or how the screening clears them, only stating that the agency was constantly working to evolve to stay ahead of new terror threats.
However, the Los Angeles Times reported that U.S. officials recently learned that "terrorists may have found a way to hide explosives in mobile electronic devices in an effort to bring down a U.S. commercial plane."
That prompted the agency to tighten security requirements last month on international flights, and the TSA has been testing the new procedures at domestic airports prior to rolling them out nationwide in the coming months.