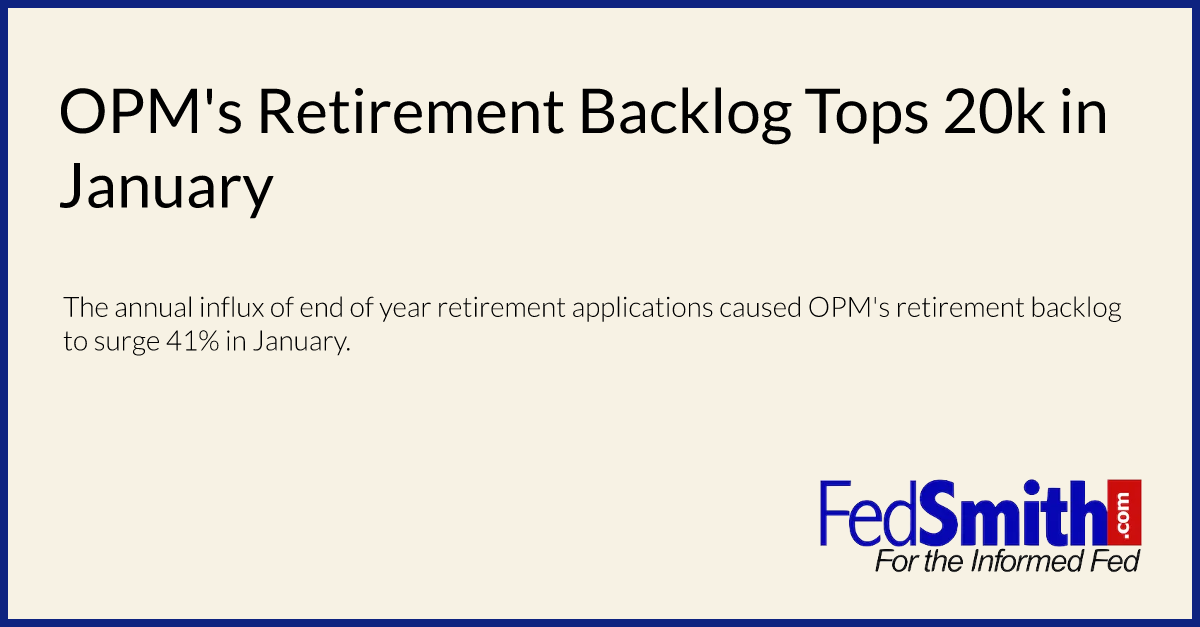 Thanks to the usual surge of new retirement applications in January, the Office of Personnel Management saw its retirement backlog shoot above 20,000 last month.
OPM received 14,590 new claims in January but was only able to process 8,638. The total backlog now sits at 20,467, a 41% increase over the previous month.
As bad as that sounds, it was higher last January when it hit 23,087. OPM also received more applications in the previous three Januarys: January 2017 (15,317), January 2016 (15,423) and January 2015 (18,629). The highest the total backlog has been during that time was 24,014 at the end of February 2015.
February is typically a month in which a larger than usual number of new applications are submitted by retiring federal employees, so the backlog stands to grow even more this month. We will find out in early March how it fares.
The latest complete backlog data are included below.
| Month | Claims Received | Claims Processed | Inventory (Steady state is 13,000) | Avg. # of Days to Process Case in 60 days or less | Avg. # of Days to Process Case in more than 60 days |
| --- | --- | --- | --- | --- | --- |
| Oct-16 | 7,326 | 5,795 | 16,677 | 49 | 91 |
| Nov-16 | 5,065 | 5,723 | 16,019 | 48 | 94 |
| Dec-16 | 5,483 | 6,405 | 15,097 | 52 | 95 |
| Jan-17 | 15,317 | 7,327 | 23,087 | 53 | 89 |
| Feb-17 | 9,114 | 8,285 | 23,916 | 38 | 104 |
| Mar-17 | 7,216 | 10,602 | 20,530 | 38 | 105 |
| Apr-17 | 6,581 | 8,179 | 18,932 | 51 | 80 |
| May-17 | 5,548 | 8,340 | 16,140 | 48 | 89 |
| Jun-17 | 6,141 | 7,751 | 14,530 | 47 | 99 |
| Jul-17 | 10,070 | 7,509 | 17,091 | 45 | 98 |
| Aug-17 | 7,136 | 7,102 | 17,125 | 47 | 105 |
| Sep-17 | 8,810 | 9,107 | 16,828 | 45 | 93 |
| Oct-17 | 8,850 | 6,818 | 18,860 | 44 | 93 |
| Nov-17 | 5,572 | 5,138 | 19,294 | 46 | 97 |
| Dec-17 | 5,568 | 10,347 | 14,515 | 43 | 96 |
| Jan-18 | 14,590 | 8,638 | 20,467 | 35 | 100 |