View this article online at https://www.fedsmith.com/2018/03/30/census-bureau-releases-list-planned-questions-2020-census/ and visit FedSmith.com to sign up for free news updates
The Census Bureau has released the list of the questions it plans to ask on the upcoming 2020 Census. By law, the agency is required to provide them to Congress by March 31, 2018, two years before the date of the next scheduled census (April 1, 2020).
So is the question about citizenship status included? Yes, as expected, it is on the list of planned questions.
The Department of Commerce created a stir when it announced that it intended to add this question back to the 2020 Census. The decision was made to help enforce the Voting Rights Act after the Justice Department requested the Census Bureau reinstate the question. For details, or if you want to join in the ongoing debate with other FedSmith readers, see 2020 Census Will Ask About Citizenship Status.
The list of proposed questions, which are included in the document at the end of this article, contains each question and a little bit of information about each one.
On the citizenship status question, for example, the report shows an example of how the question will appear and notes that it has been asked on the census since 1820.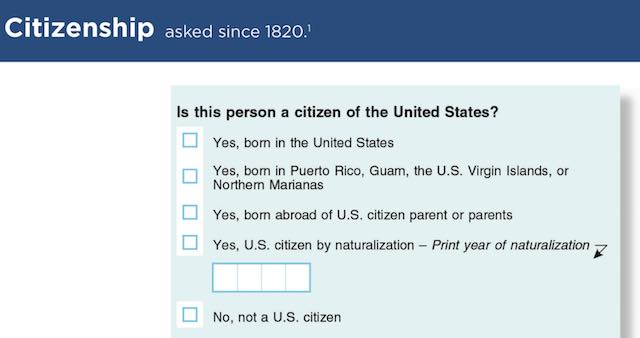 The question about one's age has been asked since 1790 and says that answers to it "provide the data that help us understand the size of different age groups and how other characteristics may vary by age."
Also included in the submission to Congress are the planned questions for the 2020 American Community Survey — an annual survey that provides key socio-economic and housing statistics about the nation's rapidly changing population every year, rather than once a decade with what used to be known as the "long form." The American Community Survey, which started in 2005, provides data that helps all levels of government, community organizations and businesses make informed decisions.
"The goal of the census is to count every person living in the United States once, only once and in the right place," said Ron Jarmin, who is performing the non-exclusive functions and duties of the Director of the U.S. Census Bureau. "The 2020 Census is easy, safe and important. The census asks just a few questions and takes about 10 minutes to respond. For the first time, you can choose to respond online, by phone or by mail."
2020 Census Planned Questions by FedSmith Inc. on Scribd