View this article online at https://www.fedsmith.com/2019/01/10/fers-disability-retirement-sf-3112a-applicants-statement-disability/ and visit FedSmith.com to sign up for free news updates
Form SF 3112A: Applicant's Statement of Disability is a crucial component of your application for FERS Disability Retirement (FDR).
This article discusses the purpose of SF 3112A and provides some important tips for drafting a compelling statement.
Overview
As a first step, let's look at how SF 3112A fits into the big picture.  Sometimes it's helpful to think of your FDR claim as a triangle: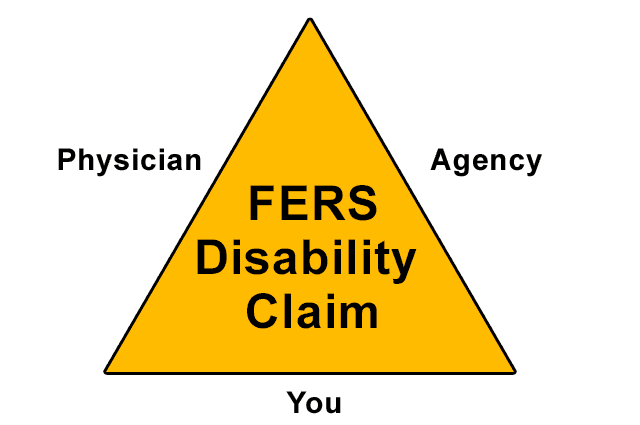 One side of the triangle is the statement prepared by your physician (i.e., SF 3112C). Another side is the statement prepared by your agency (i.e., SF 3112B, SF 3112D, and SF 3112E). And the remaining side is your personal statement of disability (i.e., SF 3112A).
Ideally, all three statements should be consistent and should provide clear evidence of your eligibility for FDR.
What is the Role of SF 3112A?
Basically, SF 3112A is your opportunity to express to OPM why you believe you are entitled to FDR benefits. Although your statement is not the only one that matters (as depicted in the above figure), OPM gives considerable weight to your subjective account of your medical conditions.
It is imperative, therefore, that you describe the nature and severity of your disabilities accurately and completely. You must also be able to show that there exists a causal relationship between your disabling medical conditions and your inability to perform one or more essential functions of your position of record.
Important Tips
A well-drafted SF 3112A should include all the following:
A list of your official diagnoses and the corresponding ICD 10 codes.
A list and/or discussion of your symptoms, including the severity and frequency of each symptom.
A list and/or discussion of the work functions you are unable to do (or have major difficulty doing) as a direct result of your medical conditions.
A list and/or discussion of the non-work functions (e.g., personal hygiene, driving, house cleaning, sleeping, eating, exercising, grocery shopping, climbing stairs, etc.) that you are unable to do (or have major difficulty doing) as a direct result of your medical conditions.
And if you are currently working in another position, a description of how the duties and responsibilities of the new position differ from those of your federal position (and how the new position accommodates your medical restrictions).
Summary
Take your time drafting SF 3112A, and don't hesitate to use a continuation sheet if your answers don't fit in the spaces provided. You want to provide OPM a clear and compelling account of your disabilities, symptoms, and limitations. Also, you want your statement (i.e., SF 3112A) to be consistent with your doctor's statement (i.e., SF 3112C: Physician's Statement).
Note: SF 3112A can be found on pages 2 and 3 of SF 3112: Documentation in Support of Disability Retirement Application.
Since 2012, Scott Santarelli has been helping disabled federal and postal workers obtain FERS disability benefits. His highly-effective approach has been adopted by several disability attorneys. He enjoys writing articles that provide valuable information about the OPM claims process.