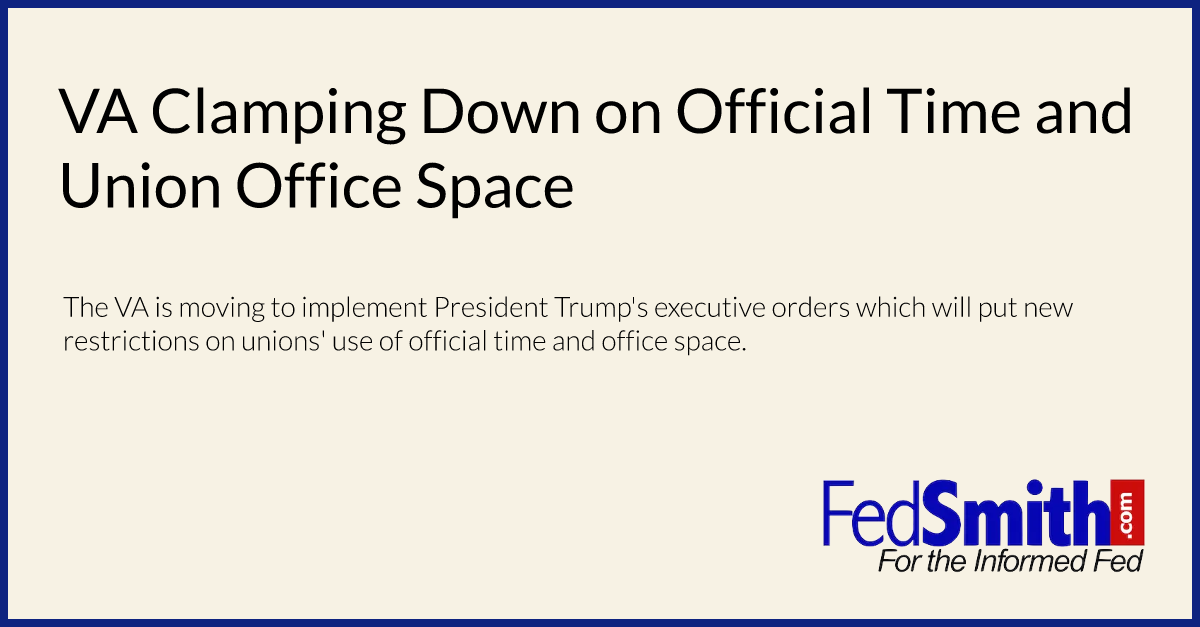 The Department of Veterans Affairs is moving out to restrict the amount of official time that union representatives will be allowed to use who work for the agency. The VA is also going to require unions to vacate or pay rent for the use of VA office space and equipment that they previously used for free.
Restrictions on Use of Office Space
The VA will provide union leaders with rental costs for all union-occupied spaces by December 13, and unions have until January 10, 2020, to notify the agency of their intent to either vacate or rent each VA space currently occupied. If there is no notice of intent to rent received, the VA will consider the lack of notice an intent to vacate.
Unless a notice of intent to rent is received, unions have until Jan. 31, 2020, to:
Remove from all VA controlled space any property belonging to the union, its officers, representatives or other affiliates.
Return any government furnished equipment provided to the union, its officers, representatives or other affiliates for the purpose of conducting non-VA business.
The VA said that the new restrictions are a cost saving measure for the agency. By prohibiting the free or discounted use of government property for union business, new revenue will be realized for the government or more office space to benefit veterans.
One example the VA provided: at the Salem VA Medical Center alone, AFGE National VA Council President Alma Lee and other union officials are occupying more than 7,500 square feet of space, which they will now need to vacate or rent under the executive orders.
New Restrictions on Official Time
As for official time, the agency said that union representatives will now have to spend at least 75% of their time on official agency business or necessary training in most circumstances.
The VA estimates that in FY 2016, agency employees spent more than a million duty hours on taxpayer-funded union time at a cost of more than $49 million. In reality, it is likely that the use of official time is much higher than what OPM estimates as there are agencies where some employees spend 100% of their time representing unions. No one really knows the precise figures on official time; GAO has found in the past that there are major discrepancies in estimates from OPM and individual agencies.
Implementing President Trump's Executive Orders
So why are these changes being enacted?
The VA said that it is because the agency is implementing the three executive orders issued last year by President Trump that place the new restrictions on unions. Unions have not been letting the changes take place without a fight, with court battles ensuing ever since the orders were issued. It was just recently that a court allowed them to go into effect after an injunction was lifted.
The executive orders generally require union representatives and employees to request and receive written approval prior to the use of taxpayer-funded union time.