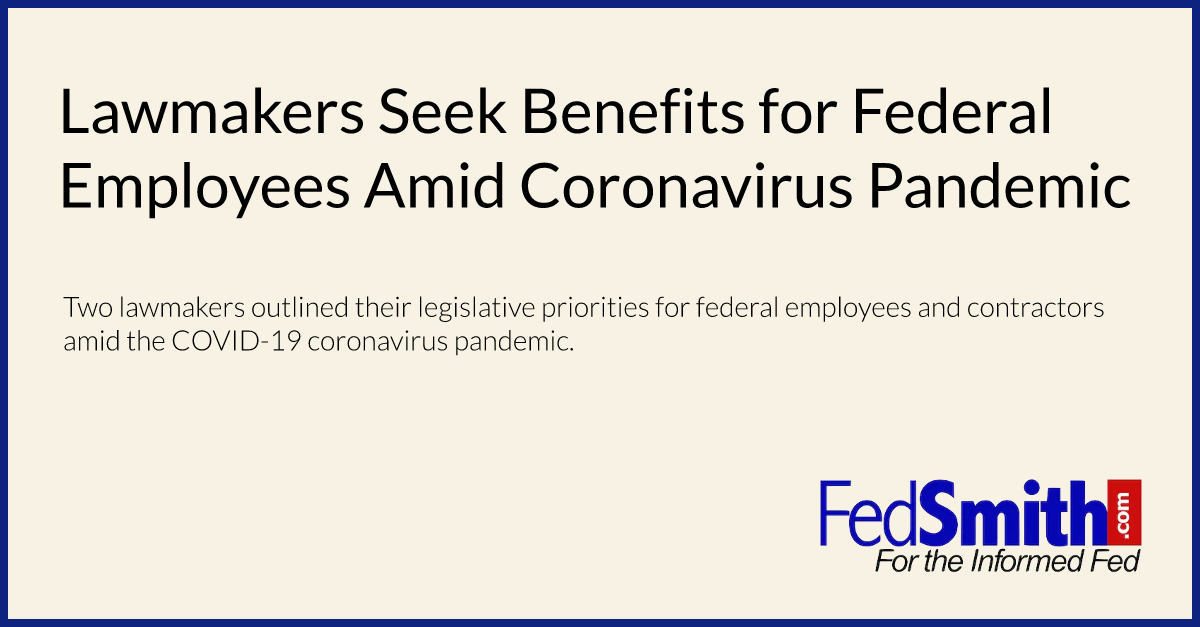 Two Congressmen sent a letter to Congressional leaders outlining what they say are their legislative priorities for protecting federal employees amid the COVID-19 coronavirus pandemic.
The letter was sent yesterday by Congressman Gerry Connolly (D-VA) and Congresswoman Carolyn Maloney (D-NY).
In the letter, the lawmakers laid out what they feel are the legislative priorities Congress should take to help federal employees and contractors during the ongoing coronavirus pandemic.
"After consultation with various stakeholders and federal leaders, we developed a collection of legislative priorities that ensure the health and safety of our federal employee and contractor workforces and provide them with flexibilities to care for themselves and their families during this time," stated the letter.
These are the following provisions for federal employees stated in the letter:
Provide childcare and dependent care costs to federal employees who are required to report to their offices. Many federal employees serve vital roles that require them to report to a duty station outside of their homes. In cases in which employees have children or dependents at home because of coronavirus-related school or other closings, these individuals would receive up to $2,000 per child or dependent per month in childcare or daycare reimbursements.
Codify weather and safety leave for federal employees. This proposal would require federal agencies to provide leave to employees, without loss or reduction in pay, in cases in which the employees are prevented from performing at duty stations due to coronavirus activities, unless the employees serve a national security role or are otherwise explicitly exempted from telework eligibility.
Clarify that federal employees can work from home with children or ill family members present. This provision would clarify that a home qualifies as an "approved location" for telework regardless of whether a child or a dependent is present because alternative childcare or healthcare options are unavailable due to the coronavirus crisis.
Prohibit blanket agency prohibitions on teleworking. The federal workforce should maximize telework opportunities at every agency to ensure continuity of operations regardless of weather, public health demands, or other conditions. Agencies should be prohibited from implementing agency-wide restrictions on the frequency with which their employees telework. Such restrictions make the federal government less prepared to use telework for continuity of operations.
Allow federal employees to make health insurance changes when public health emergency declarations occur. Public health emergencies can drastically change the lives and health of federal employees. This provision would allow federal employees to opt into new health insurance plans or adjust their existing coverage when nationwide public health emergencies are declared.
Extend health, dental, and vision insurance eligibility to qualifying dependents. In some cases, children of federal employees may age out of access to their family's health, dental, or vision insurance during the coronavirus pandemic. This provision would extend eligibility of dependents who exceed the insurance age cap during the coronavirus crisis for an additional year.
Congress has said it plans to implement a fourth stimulus bill for the coronavirus, so various lawmakers and interest groups have been lining up to make a pitch for what they want to see included in the bill.
Senate Democrats previously released their list of priorities for federal workers that they want to see in a future stimulus bill. Key among them was a $25,000 premium pay benefit for front-line federal employees.
Maloney and Connolly have also been behind the efforts to bail out the Postal Service amid the economic challenges caused by the coronavirus. They want Congress to give the Postal Service $25 billion in emergency funding as well as some other provisions, but the Postal Service has said this is not enough.
It is unknown at this point what, if any, of these or other measures might be included in such a bill.
A copy of the April 13 letter is included below.
Letter Re: Coronavirus Legislative Priorities for Federal Employees