Did you know that it is possible to see the International Space Station (ISS) when it passes overhead? The National Aeronautics and Space Administration (NASA) has a website that will let you find out when you can see it in your area.
I discovered this recently and have enjoyed tracking opportunities to get a glimpse of the ISS when it passes by. Winter is a good time of year to do it also because we have longer periods of darkness each day, and it has to be dark out in order to see it.
NASA's Spot the Station website lets you look up dates and times when the ISS will be visible in a particular part of the world. It typically will appear in short intervals, usually 2-6 minutes, on a clear night.
What does it look like when it passes overhead? As NASA describes it, "It is the third brightest object in the sky and easy to spot if you know when to look up. Visible to the naked eye, it looks like a fast-moving plane only much higher and traveling thousands of miles an hour faster!"
The website has an interactive map that lets you look up sighting opportunities for a particular area, and you can even subscribe to get updates of viewing opportunities for a selected area by email, RSS or mobile text (SMS).
In a large metropolitan area such as Washington, DC, there likely will be multiple points listed on the map which you can choose to pinpoint sighting opportunities more closely to the location from which you would be looking. This is how Washington, DC looks for instance: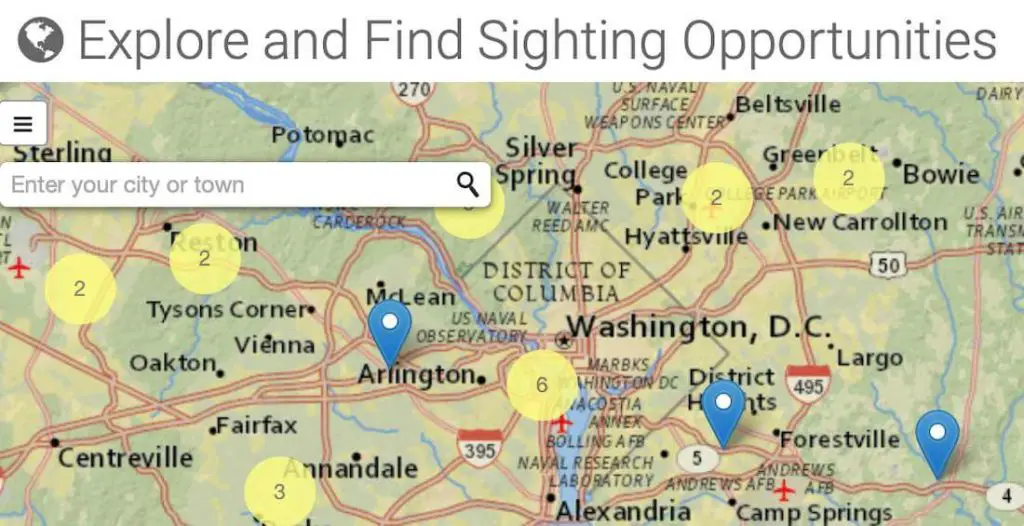 Clicking on any of the points lets you drill down further to bring up a list of the recent and upcoming viewing opportunities. Each one lists the date and time it will be visible, how long it will be visible, and the direction/coordinates from which ISS will make its approach.
I also found a third party website that also lets you generate a calendar URL using the data from NASA's Spot the Station website that you can subscribe to with a calendar application (i.e. Google Calendar) so you'll get sighting opportunities automatically sent to your personal calendar. Setting up the calendar URL was simple to do; you just answer a few questions about the geographic area you want to monitor and are presented with a URL to import into a calendar application.
There is also a live tracking map on the Spot the Station website to show you the location of the ISS in real time. According to NASA, it circles the earth every 90 minutes and travels at about 17,500 MPH.