Becoming Emotionally Prepared
Moving from a decades-long career to a new era of retirement is a significant transition. For many federal employees, their profession defines who they are and provides structure in their lives.
Are you ready to retire? Are you emotionally ready for the shift? Bringing your plans and dreams for federal retirement into a roadmap will help you successfully navigate this new phase of life. Before retirement, map out your new identity and purpose for the next 30 or so years. Leverage the motivational power of a bucket list!
Significant Decision Points
Timing is critical for your transition into federal retirement. The age at which you retire has an impact on your overall federal retirement situation, both emotionally and financially. Deciding when to retire from the federal government is the product of a variety of factors.
There are several key decision points on the journey to and through federal retirement, including eligibility for penalty-free withdrawals from tax-deferred savings accounts, eligibility for Social Security benefits, eligibility for Medicare, full retirement age, and the age at which Required Minimum Distributions begin. Understanding the significance of each marker and how you will respond at that time will enable you to confidently plan ahead before reaching them.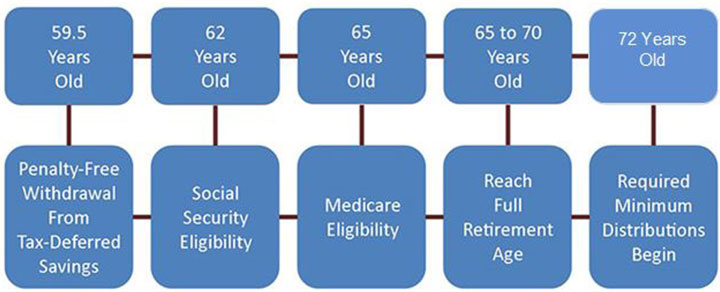 Once you have determined your federal retirement age, you will then need to decide on a retirement date. For more information on these considerations, watch the video below from Retirement Benefits Institute with additional information.
Phase Shift: Accumulation to Distribution
You spend your whole federal career in the accumulation stage, where you steadily save while paying off debts and accumulating assets. On the day you retire from federal employment and have no more earned income, you will stop saving in retirement accounts. When that ends, you leave the accumulation phase and shift into the distribution phase. While the accumulation phase focuses on saving for retirement, the distribution phase is when you begin to draw on your assets. The accumulated assets—like the TSP—will at last begin to be used. 
Major Financial Changes
What are some major shifts in your financial situation pre- and post-retirement? Housing costs, work-related expenses, family expenses (groceries, education, healthcare, entertainment, etc.), and retirement savings all play a part in your federal retirement roadmap. Knowing your needs and desires and how they interact is important to your implementation for the future.
Retirement and Estate Planning
Knowing how your federal annuity payments and retirement distributions coordinate with your estate plan is important in your retirement planning. There are many possibilities, depending on your goals for your life and legacy. You have options for charitable gifts and inheritances, and the tax implications are important to know. Your long-term plans for your money affect the actions you take now, and in the first years of federal retirement. There are a number of resources available as you look at your goals and draft your path forward.
Disclosure: The information contained in these blogs should not be used in any actual transaction without the advice and guidance of a tax or financial professional who is familiar with all the relevant facts. The information contained here is general in nature and is not intended as legal, tax or investment advice. Furthermore, the information contained herein may not be applicable to or suitable for the individuals' specific circumstances or needs and may require consideration of other matters. RBI is not a broker-dealer, investment advisory firm, insurance company, or agency and does not provide investment or insurance-related advice or recommendations. Brandon Christy, President of RBI, is also president of Christy Capital Management, Inc. (CCM), a registered investment advisor.