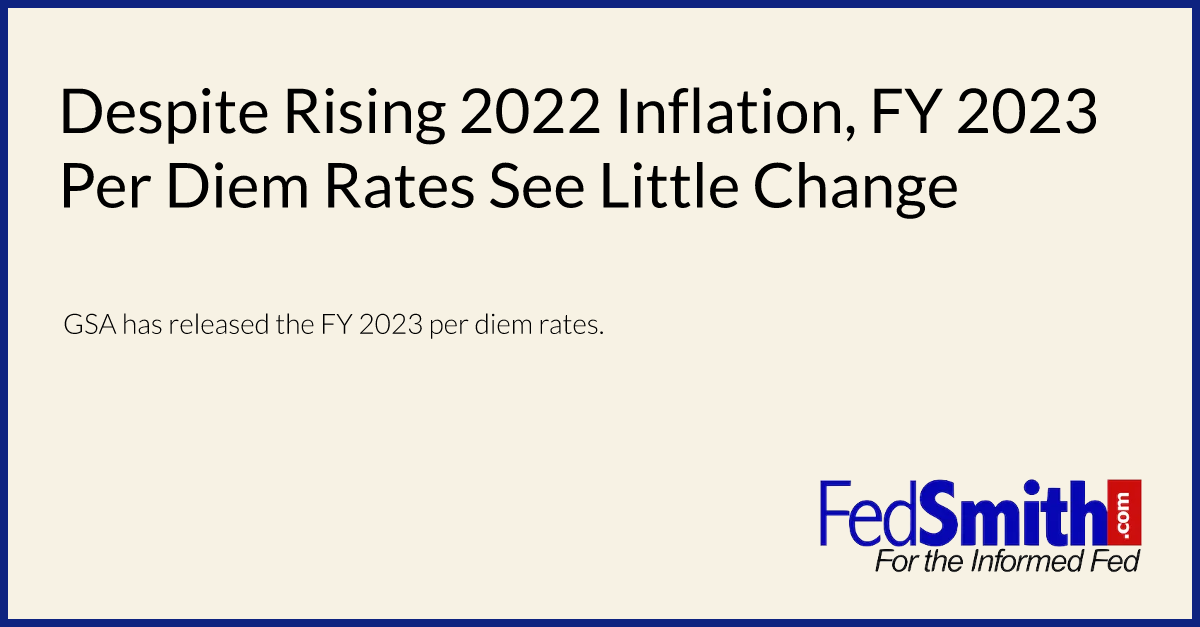 The General Services Administration (GSA) has released the per diem rates for fiscal year 2023.
Federal employees who travel for work get reimbursed by their agencies for their expenses incurred while traveling for things like hotels or meals based on these rates. Federal employees who may have been expecting a nice bump in per diem rates for the upcoming fiscal year because of rapidly rising inflation in 2022 will be disappointed.
FY 2023 GSA Per Diem Rates
According to GSA, the standard continental United States (CONUS) lodging rate will increase from $96 to $98 when the 2023 fiscal year begins on October 1, 2022. A total of 316 locations will receive a maximum lodging allowance higher than the standard rate.
All current non-standard areas (NSA) will have lodging rates at or above FY 2022 rates.
There are no new NSA locations for FY 2023. The following locations that were NSAs (or part of an established NSA) in FY 2022 will move into the standard CONUS rate category:
Cromwell/Old Saybrook, CT (Middlesex County)
El Paso, TX (El Paso County)
Rock Springs, WY (Sweetwater County)
The meals and incidental expenses (M&IE) per diem tiers for FY 2023 are unchanged at $59-$79, with the standard M&IE rate unchanged at $59.
Meals and Incidentals (M&IE) Breakdown for FY 2023
M&IE Total1
Continental
Breakfast/ 
Breakfast2
Lunch2
Dinner2
Incidental
Expenses
First & Last Day of Travel3
$59
$13
$15
$26
$5
$44.25
$64
$14
$16
$29
$5
$48.00
$69
$16
$17
$31
$5
$51.75
$74
$17
$18
$34
$5
$55.50
$79
$18
$20
$36
$5
$59.25
This column lists the full daily amount federal employees receive for a single calendar day of travel when that day is neither the first nor last day of travel.
The separate amounts for breakfast, lunch and dinner listed in the chart are provided should you need to deduct any of those meals from your trip voucher. For example, if your trip includes meals that are already paid for by the government (such as through a registration fee for a conference), you will need to deduct those meals from your voucher. Refer to Section 301-11.18 of the Federal Travel Regulation for specific guidance on deducting these amounts from your per diem reimbursement claims for meals furnished to you by the government. Other organizations may have different rules that apply for their employees; please check with your organization for more assistance.
This column lists the amount federal employees receive for the first and last calendar day of travel. The first and last calendar day of travel is calculated at 75 percent.
All per diem rates for 2023 and other years are available on the GSA website.
For information on how the 2022 per diem rates were set, see GSA Freezes 2022 Lodging Per Diem Rates Due to COVID.
Was 2022 Inflation a Factor?
Why was there not more of a change in the 2023 per diem rates amidst rising inflation? Blame COVID.
According to GSA, the pandemic led to "unprecedented declines" in the historical average daily rate (ADR) which is what the agency uses to calculate the per diem rates. Per diem rates are set based upon contractor-provided ADR data of local lodging properties. The figure gives the agency the average hotel rate in any given area.
The ADR is a travel industry metric that divides room sales rental revenue by the number of rooms sold. This is the metric that GSA has used for calculating per diem rates since FY 2005. GSA says that all rates are evaluated to ensure that they are fair and equitable in the approval process.
In light of that process, GSA said the following about the FY 2023 per diem rates:
GSA bases the maximum lodging allowances on historical average daily rate (ADR) data, less five percent. However, the COVID-19 pandemic led to unprecedented declines in ADR, followed by a volatile hotel industry recovery. In light of these conditions, GSA made upward adjustments based on recent ADR data. FY 2022 rates, which were based on pre-pandemic data, served as a floor to ensure that maximum lodging allowances for federal travelers are sufficient in FY 2023 as the hotel industry recovery continues.