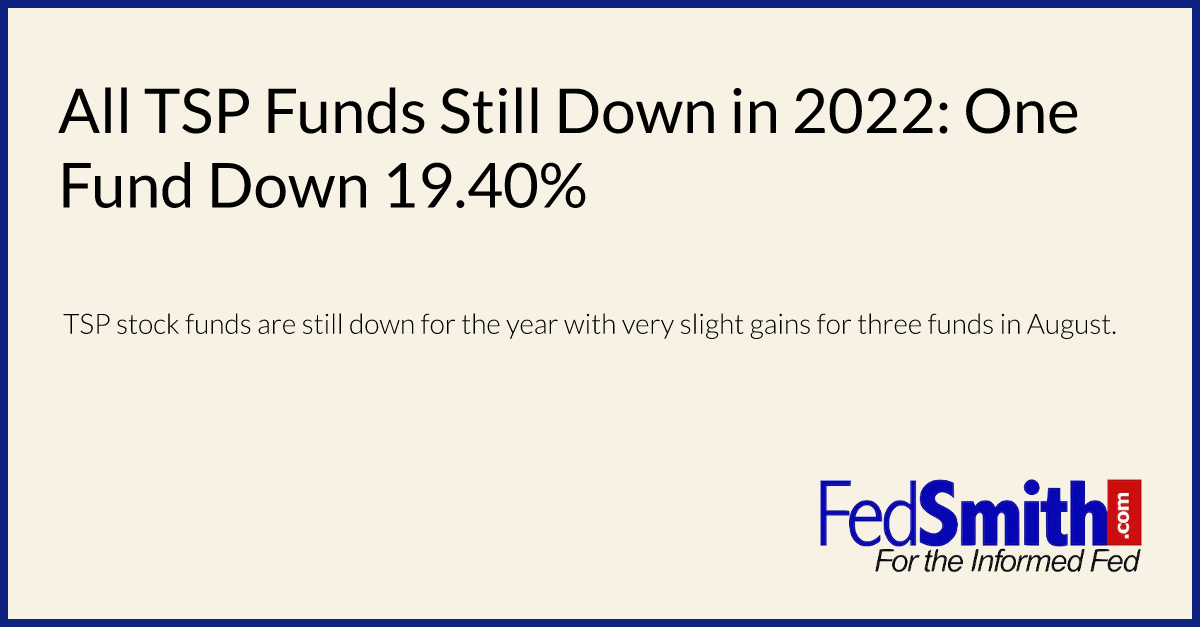 2022 Has Not Been a Good Year for TSP Investors
When reading that 2022 has not been a good year for TSP investors, some readers may assume this refers to problems with the TSP migration to a new website. While that has been a negative experience for many investors, it has also been a bad year for stock market returns generally.
July 2022 provided Thrift Savings Plan (TSP) investors with the best month of returns since the Trump Administration. The C Fund was up 9.22% and the S Fund was up 10.32% in July.
That good news led to a report in the Wall Street Journal titled Investors Return to Stock Funds, Starting to Reverse Recent Exodus. Presumably, this means these investors are gaining confidence the stock market's slide will reverse and stocks will continue to go up. These investors are optimistic this is a time to buy when stock prices are low and before they head back up again.
$15 Billion Transferred into G Fund in Four Months
In the latest month for which data are available, TSP investors again moved more than two billion dollars into the G Fund and out of the TSP's stock funds. Specifically, investors transferred about $2.635 billion into the G Fund in July 2022. In the same month, more than $1 billion was transferred from the Lifecycle Funds, just under $1 billion from the C Fund, and $540 million from the S Fund.
Transfers into the G Fund have been a trend for the past four months. More than $15 billion was transferred into the G Fund between April and July. This table shows investor transfer action in the G, C, S, and L Funds over the past five months (note figures are in millions of dollars). Obviously, as the stock market slide was becoming apparent, some TSP investors decided to halt their losses and move into the safety of the G Fund. (Prices are in millions.)
| | | | | |
| --- | --- | --- | --- | --- |
| Month | G Fund Transfers | C Fund Transfers | S Fund Transfers | L Fund Transfers |
| July | $2,635 | -$994 | -$540 | -$1,044 |
| June | $4,197 | -$1,863 | -$633 | -$1,360 |
| May | $6,353 | -$3,491 | -$745 | -$1,666 |
| April | $1,820 | -$17 | -$856 | -$308 |
| March | -$1,591 | $1,454 | $951 | -$412 |
In March, when money was still flowing into the stock funds, the C Fund had the largest percentage of TSP investor assets with 32.1%. But, by the end of July, this percentage had decreased to 30.2%. The G Fund had the largest percentage of participant allocated funds with 31.9%.
The trend into the G Fund was apparent. With total plan assets in excess of $743 billion, the data indicate that most TSP investors did not move their money as the market declined.
TSP Stock Funds Mostly Negative Again in August
As of the close of the stock market on August 23rd, the S and C Funds are showing another positive return so far in August. The S Fund is up 1.36% for the month while the C Fund is almost flat but has gained 0.09% so far in August. The G Fund also has a positive return in August (0.18%).
For the year, the S Fund has a negative return of 19.40% while the C Fund is down 12.50%. Every TSP fund is down for the year with the exception of the G Fund which is up 1.60%.
All other funds, including the Lifecycle Funds, are showing a negative return for August.
2022 has not been a good year for stock market investors. FedSmith will provide an update on the TSP's performance for the entire month of August on September 1st.
| FUND | Month-to-Date | Year-to-Date |
| --- | --- | --- |
| G Fund | 0.18% | 1.60% |
| F Fund | -2.16% | -9.85% |
| C Fund | 0.09% | -12.50% |
| S Fund | 1.36% | -19.40% |
| I Fund | -2.98% | -17.31% |
Source: TSPDataCenter.com
Are Stock Market Investors Safe Yet?
Few people, if any, can accurately predict when the stock market is going to go up substantially for a period of time (bull market) or down substantially (bear market). We have been in an unusually long market cycle. Consider this: On August 12, 1982, the Dow Jones Industrial Average hit bottom. This index was at 776.91. It was still close to where the index was in January 1964. It went up and down after that a number of times but eventually hit its peak on January 4, 2022 when it went to 36,800. This was a massive gain with an annual gain of 9.6%.
No one knows yet but the recent bout of inflation may have killed the super bull. One analyst recently wrote we are back to "extreme levels of bullish optimism." In 1982, taxes had been cut, interest rates were going down and some optimists thought personal computers looked as though they may have a future in American homes.
We do not know what the future holds. Inflation has been going up and is the highest it has been in 40 years. While gas prices are starting down (after going up quickly and are still much more expensive than 18 months ago), food prices are up dramatically. Interest rates are rising. The cost of electricity is up. Most Americans think the country is headed in the wrong direction and our best years are in the past.
While there is room for optimism in some quarters, those expecting a huge gain in stocks in the near future may not recall (or have been alive or certainly not investing in stocks) in the years preceding 1982 when many or most investors just gave up on stocks.
Perhaps the bull market is not over and we are just in a down slump. Hope for the best and plan for the worst when allocating money for your future retirement.