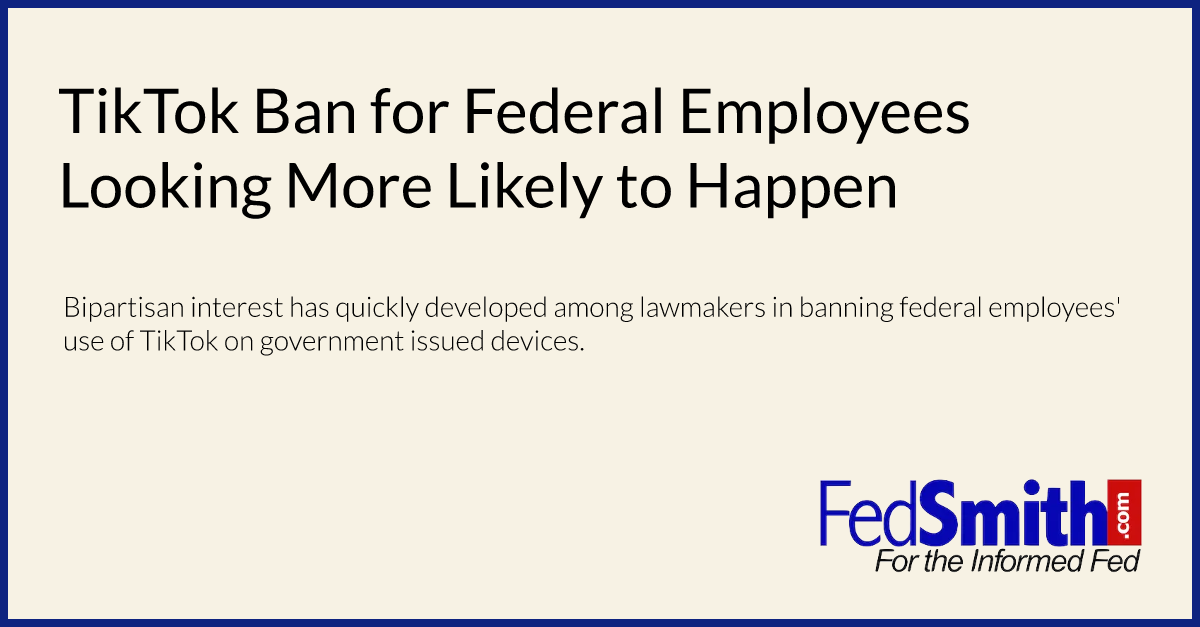 It is looking increasingly likely that federal employees will be prohibited from using TikTok on devices issued by the U.S. government as the effort has quickly gained bipartisan support in Congress.
Senate Passes Ban on TikTok for Federal Employees
Legislation passed in the Senate this week that would ban the use of TikTok on government issued devices.
Senator Josh Hawley's (R-MO) No TikTok on Government Devices Act (S. 1143) would prevent federal employees from downloading or using TikTok on phones, tablets, and computers issued by the US government or government corporations.
The bill must now go to the House for consideration.
TikTok Ban in the House of Representatives
Although she would initially not commit to putting the bill banning TikTok for federal employees on the House schedule, House Speaker Nancy Pelosi (D-CA) has now indicated that she supports inclusion of language banning TikTok on federal government devices in the omnibus spending bill that Congress is trying to pass next week.
Growing Support for Banning TikTok
A number of states have begun banning state employees from using the app on mobile devices issued by state governments. This has probably influenced the efforts in Congress, although the movement to ban TikTok for federal employees began several years ago.
As of the time of this writing, TikTok is banned on all state issued devices in 14 states:
Idaho
Utah
North Dakota
South Dakota
Nebraska
Okalahoma
Texas
Iowa
Tennessee
Alabama
Georgia
South Carolina
Maryland
New Hampshire
Nationwide Ban of TikTok Proposed
Legislation was also just introduced in both the House and the Senate to ban TikTok nationwide.
Senator Marco Rubio (R-FL) introduced the Averting the National Threat of Internet Surveillance, Oppressive Censorship and Influence, and Algorithmic Learning by the Chinese Communist Party Act (ANTI-SOCIAL CCP Act) (S. 5245) which would block and prohibit all transactions from any social media company in, or under the influence of, China, Russia, and several other foreign countries of concern.
Language in the bill specifically lists TikTok and ByteDance, the IT company based in Beijing which owns TikTok, as the blacklisted companies.
Companion legislation was introduced in the House by Representatives Mike Gallagher (R-WI) and Raja Krishnamoorthi (D-IL) (H.R. 9508).
Rubio said in a statement:
The federal government has yet to take a single meaningful action to protect American users from the threat of TikTok. This isn't about creative videos — this is about an app that is collecting data on tens of millions of American children and adults every day. We know it's used to manipulate feeds and influence elections. We know it answers to the People's Republic of China. There is no more time to waste on meaningless negotiations with a CCP-puppet company. It is time to ban Beijing-controlled TikTok for good.
Gallagher compared TikTok to a dangerous drug infecting Americans, adding:
TikTok is digital fentanyl that's addicting Americans, collecting troves of their data, and censoring their news. It's also an increasingly powerful media company that's owned by ByteDance, which ultimately reports to the Chinese Communist Party – America's foremost adversary. Allowing the app to continue to operate in the U.S. would be like allowing the U.S.S.R. to buy up the New York Times, Washington Post, and major broadcast networks during the Cold War. No country with even a passing interest in its own security would allow this to happen, which is why it's time to ban TikTok and any other CCP-controlled app before it's too late.
Gallagher and Rubio wrote in a recent editorial in the Washington Post about concerns they had over TikTok's ability to track users' locations and web browsing data, even when they were visiting unrelated websites as well as TikTok's ability to influence "which issues Americans learn about, what information they consider accurate, and what conclusions they draw from world events" because of the growing number of people who get their news from such apps.
The lawmakers wrote, "Unless TikTok and its algorithm can be separated from Beijing, the app's use in the United States will continue to jeopardize our country's safety and pave the way for a Chinese-influenced tech landscape here…. This is why we're introducing legislation which would ban TikTok and other social media companies that are effectively controlled by the CCP from operating in the United States…."
According to security and privacy researcher Felix Krause, TikTok can monitor all of a user's keyboard inputs when using the app's built in browser. 
"When you open any link on the TikTok iOS app, it's opened inside their in-app browser. While you are interacting with the website, TikTok subscribes to all keyboard inputs (including passwords, credit card information, etc.) and every tap on the screen, like which buttons and links you click," wrote Krause.
TikTok Denies Tracking Locations of Specific Americans
TikTok, however, has denied that it uses specific location data to track Americans. The company issued a statement in response to an article in Forbes which claimed the company planned to use location data to monitor the whereabouts of specific American citizens. According to Forbes:
The team [ByteDance's Internal Audit and Risk Control department] primarily conducts investigations into potential misconduct by current and former ByteDance employees. But in at least two cases, the Internal Audit team also planned to collect TikTok data about the location of a U.S. citizen who had never had an employment relationship with the company, the materials show. It is unclear from the materials whether data about these Americans was actually collected; however, the plan was for a Beijing-based ByteDance team to obtain location data from U.S. users' devices.
TikTok said on Twitter that "Forbes' reporting about TikTok continues to lack both rigor and journalistic integrity." The company also said:
Specifically, Forbes chose not to include the portion of our statement that disproved the feasibility of its core allegation: TikTok does not collect precise GPS location information from US users, meaning TikTok could not monitor US users in the way the article suggested.
Another tweet stated, "TikTok has never been used to "target" any members of the U.S. government, activists, public figures or journalists, nor do we serve them a different content experience than other users."
It's too soon to tell if a nationwide ban on TikTok will happen, but the deck is currently stacked against TikTok in Congress. It appears federal employees will soon be prohibited from using the application on any government issued devices. FedSmith will issue updates on the legislation as they occur.