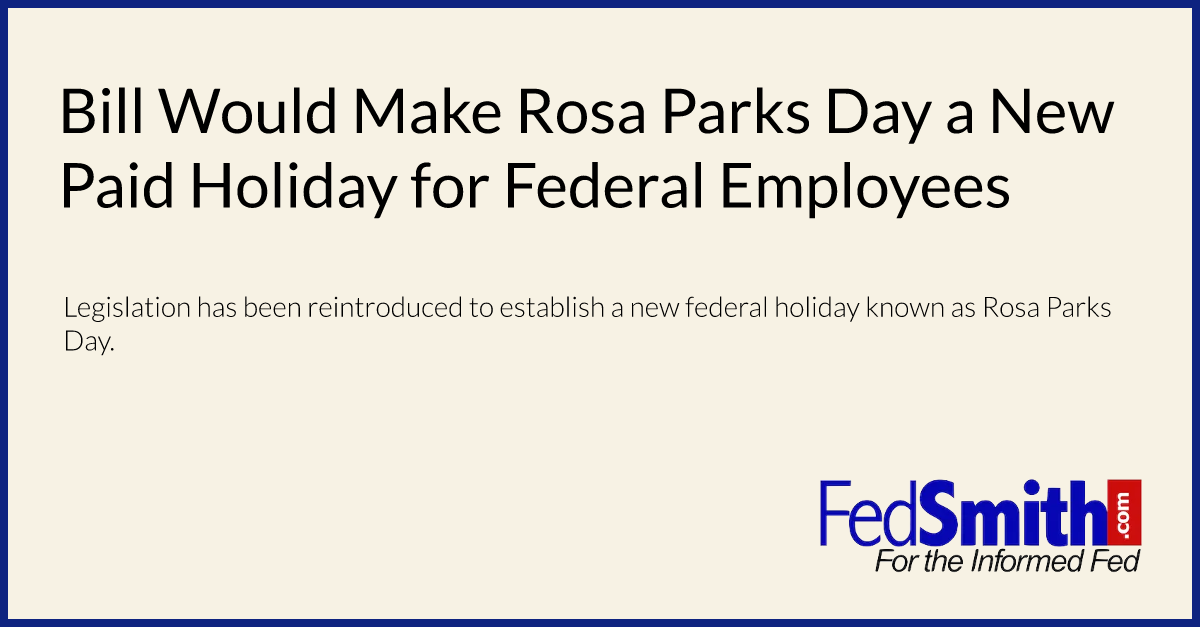 Legislation was recently reintroduced to create a new federal holiday known as "Rosa Parks Day" to honor Rosa Parks. Establishing a new federal holiday would give federal employees another day off of work with pay.
The Rosa Parks Day Act (H.R. 308) would designate December 1st as a federal holiday to commemorate the arrest of Rosa Parks. It was introduced by Congresswoman Terri Sewell (D-AL) and has 31 co-sponsors, all of whom are Democrats, as of the time of this writing. Sewell is the Congressional Representative from Montgomery, AL.
The legislation was previously introduced in 2021 but failed to become law.
Sewell said in a statement about the bill:
For my very first bill in the 118th Congress, I'm proud to be introducing the Rosa Parks Day Act! On December 1, 1955, in Montgomery, Alabama, Rosa Parks sat so that this nation could stand up for the values that our democracy holds so dear. Her quiet, dignified courage helped inspire the Civil Rights Movement and changed this country for the better. As the U.S. Representative for Montgomery, I'm committed to ensuring the memory of Rosa Parks' brave sacrifice is never forgotten by designating December 1st as a federal holiday in her honor.
Who Was Rosa Parks?
Rosa Parks is known in history as a woman who refused to give up a bus seat to a white man in Montgomery, Alabama. She was arrested on December 1, 1955 for violating a local law requiring racial segregation. Local laws dictated that African American passengers sat at the back of the bus while whites sat in front.
Rosa Parks, née Rosa Louise McCauley was born February 4, 1913, in Tuskegee, Alabama. She died on October 24, 2005, in Detroit, Michigan.
Her actions and the subsequent publicity inspired some local community leaders to organize the Montgomery Bus Boycott. The boycott was led by Dr. Martin Luther King Jr. The boycott lasted more than a year. It ended when the U.S. Supreme Court ruled that bus segregation was unconstitutional. 
Local laws on the topic were sometimes in conflict. One law stated segregation was to be enforced. Another law stated no person could be asked to give up a seat even if there were no other seats open. If the white section became full, African Americans had to give up their seats in the back. It was a local custom that bus drivers had the authority to ask a Black person to leave a seat for a white rider to sit down.
While appeals progressed and related lawsuits were filed and went through the judicial system, and ending up before the U.S. Supreme Court, there was violence in Montgomery. The Montgomery Bus Boycott created considerable anger among Montgomery's white population. Violence ensued including the bombing of Martin Luther King's Montgomery home.
Why is Rosa Parks the Public Face for Civil Rights?
The Supreme Court case decision was not cited as the Rosa Parks case. Instead, it is Browder v. Gayle. The actual case that reached the Supreme Court involved a 15-year-old girl, Claudette Colvin, among others.
Colvin was actually the first person arrested in 1955 for refusing to give up her seat on a Montgomery bus—nine months before Rosa Parks' action of refusing to give up her bus seat.
Colvin was one of five plaintiffs in the first federal court case that came before the Supreme Court decision known as Browder v. Gayle, and challenged the segregation of buses in Montgomery. Browder was actually the case the ended the Montgomery Bus boycott.
With this background, why did Rosa Parks become known as a civil rights hero instead of Claudette Colvin?
Blame it on the lawyers and local civil rights leaders who were seeking more favorable publicity for their case and for the issue they were pursuing.
Montgomery's Black leaders did not want to publicize Colvin's actions. Colvin has said, "Young people think Rosa Parks just sat down on a bus and ended segregation, but that wasn't the case at all." 
Instead, in part, because Colvin was pregnant during the legal proceedings and was not a married woman, she was not thought to be the best person to be the public face for the case.
It is now widely accepted that Colvin was not given credit for her actions by civil rights leaders. As Rosa Parks said: "If the white press got ahold of that information, they would have [had] a field day. They'd call her a bad girl, and her case wouldn't have a chance."
And, to quote an extensive article in a British paper that researched the role of Colvin in breaking up the role of segregation in Montgomery and elsewhere, Parks had another advantage over Colvin in coming up with creating the public face for the civil rights cause:
Colvin was also very dark-skinned, which put her at the bottom of the social pile within the black community – in the pigmentocracy of the South at the time, and even today, while whites discriminated against blacks on grounds of skin colour, the black community discriminated against each other in terms of skin shade. The lighter you were, it was generally thought, the better; the closer your skin tone was to caramel, the closer you were perceived to be to whatever power structure prevailed, and the more likely you were to attract suspicion from those of a darker hue.
There is no mention of Claudette Colvin in the press release or in the text of the bill for Rosa Parks Day. Of course, there is no requirement for historical accuracy in creating a new federal holiday. There is also no indication that the Congressional representatives sponsoring the bill are aware of the role of Claudette Colvin or if they considered those who were perhaps more instrumental in the outcome of the event to be as relevant as the publicity of the bill.
How Many Federal Holidays Do Federal Employees Get Now?
This is the current list of federal holidays. Federal employees are entitled to holiday pay on a federal holiday.
New Year's Day
Birthday of Martin Luther King, Jr.
Washington's Birthday
Memorial Day
Juneteenth National Independence Day
Independence Day
Labor Day
Columbus Day
Veterans Day
Thanksgiving Day
Christmas Day
Federal employees now have 11 standard paid federal holidays. Previously, there were 10 standard holidays, but federal employees got a new holiday in 2021 when a new law was enacted establishing Juneteenth as a federal holiday.
Federal employees will sometimes get an additional holiday in some years, such as for an extra day off at Christmas or for Inauguration Day for federal employees in the Washington, DC area.
The last couple of years have shown a pattern of bills being introduced advocating for new federal holidays, perhaps in light of the recent success of getting Juneteenth established as a federal holiday. If other recent legislative proposals were to eventually become law, federal employees could have as many as 16 paid holidays in a typical year. In addition to Rosa Parks Day, these are other recent proposals in Congress to create new federal holidays: