The Office of Personnel Management (OPM) has released a new guide to help federal employees understand the retirement application process and what to expect when their application packages are being processed by the agency.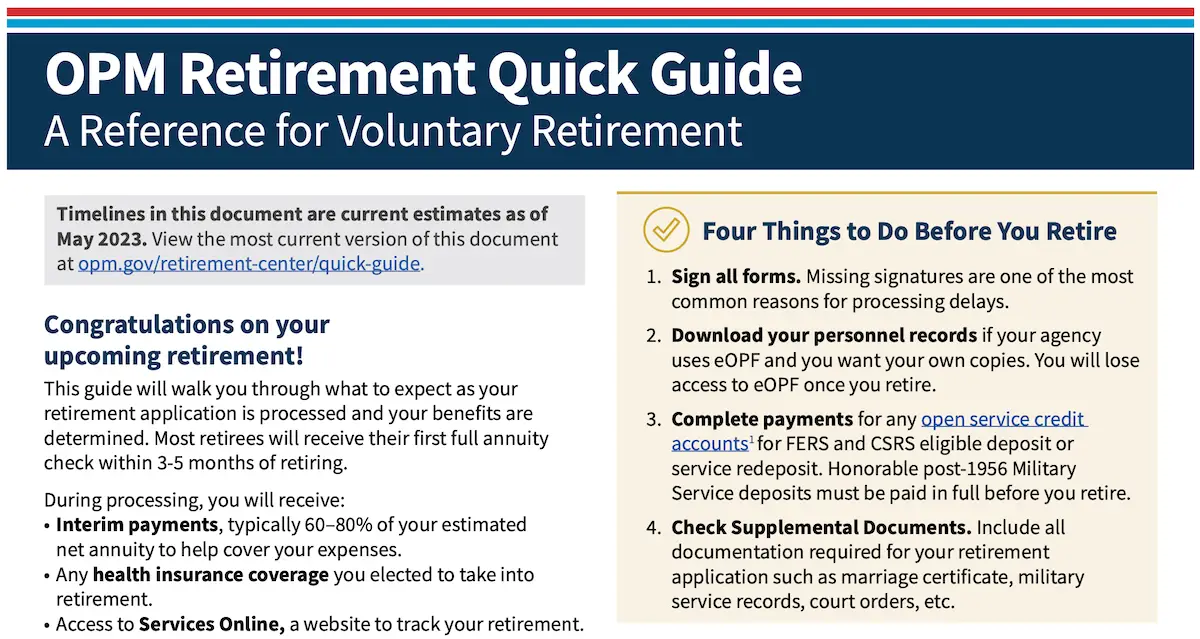 The OPM Retirement Quick Guide ("Guide") is a simple, three-page guide that will walk federal employees through what to expect as a retirement application is processed and benefits are determined, including helping federal employees estimate when they can expect to receive their interim and first annuity payments.
The Guide is also designed to help demystify the federal retirement process for federal employees and facilitate submitting complete and accurate retirement applications, something that ultimately helps to cut down on delays in getting them processed by OPM.
It also highlights circumstances that could result in a case processing delay, including court orders, incomplete applications, or cases that require special annuity computations related to certain positions.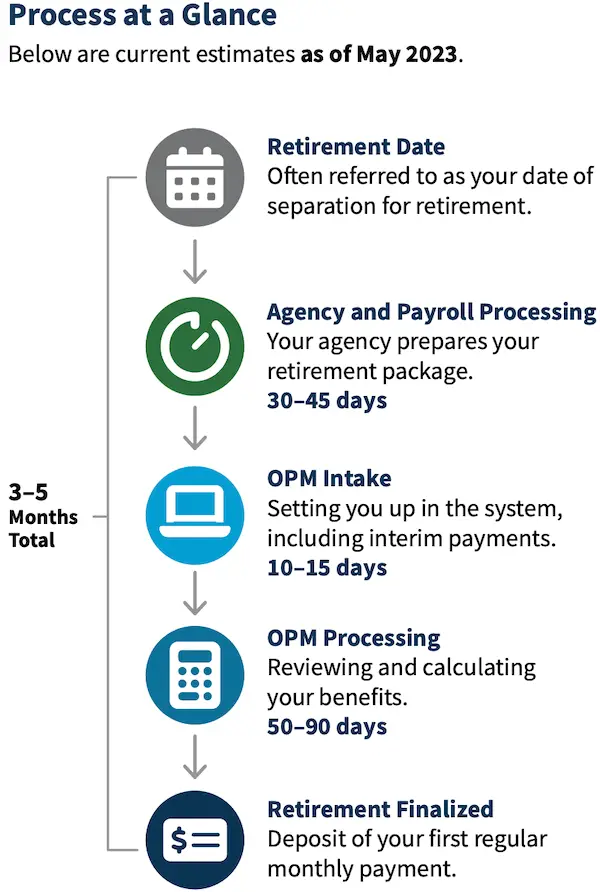 "This guide is our attempt to improve customer experience," said Lori Amos, Deputy Associate Director for OPM's Retirement Services. "We have put a lot of work, time, and effort based on feedback that we have received from our retiree community. Our goal is to be able to give [federal employees and retirees] information about the voluntary retirement process."
One prominent feature of the guide is that it outlines steps in the retirement process and an estimate of how long each one is expected to take based on the current month. OPM said that it plans to update this part of the guide each month. That means that the number of days listed will vary each month, primarily in the "OPM Processing" section that lists an estimate of how long processing time is currently expected to take.
The current version of the OPM Retirement Quick Guide will be available on OPM's website: opm.gov/retirement-center/quick-guide.
The OPM Retirement Backlog
OPM has had a large backlog of retirement claims for years now. As of the end of April 2023, the OPM retirement backlog was 20,384 which was an 11% improvement over the previous month and the lowest the backlog has been so far in 2023, so it has been trending downward this year.
Many FedSmith readers have commented that they have run into delays in getting their retirement applications processed. The agency is focused on improving the backlog and helping federal employees get their applications processed as quickly as possible by introducing new features such as the OPM Retirement Quick Guide.
By helping federal employees and recent federal retirees better understand the retirement process, the goal is for the Guide to be one other tool to help reduce the outstanding inventory of retirement claims as well as the amount of time it takes the agency to process them.
"Our hope is that it will reduce the amount of time that it takes to process a retirement application in partnership with our customer and benefits officers resulting in a reduction in our backlog," said Amos.
How Federal Employees Can Avoid Processing Delays on Their Retirement Applications
When a federal employee first submits a retirement application, he will get what is known as "interim" annuity payments until OPM finishes fully processing the retirement application. These payments represent a portion of the final annuity payment and are usually made on the first business day of each month.
As the new retirement guide states:
Interim pay is a portion of your estimated annuity payment (approximately 60–80% of your finalized net payment for most people). It is intended to help cover expenses while OPM is processing your case.

Interim payments do not include deductions for health benefits, life insurance, dental, vision, or long-term care.
The only deduction taken from interim payments is for federal tax. State tax is not deducted from interim payments.
You must manage your dental, vision, and long-term care insurance through BENEFEDS while in interim pay.
Your interim payment does not take into account any annuity supplement you may be eligible to receive.
Because federal employees are not getting their full annuity payments while waiting for their retirement applications to be processed, it is in their best financial interest to avoid processing delays as much as possible.
The best way to avoid delays is to have a "healthy" retirement application as OPM calls it, one which is a "complete and accurate package that does not have to be developed for missing, inaccurate, or discrepant information."
Amos said that missing signatures are the most common error on retirement applications, and the Guide emphasizes this right up front on page 1 in the "Four Things to Do Before You Retire" section for this reason where it says "Sign all forms."
She added that downloading a federal employee's personal records is another common error that can delay processing, meaning that if the employee has worked for multiple agencies, OPM has to have what is known as an individual retirement record. If these records are missing from the retirement application, it delays the process. Federal employees can work with their benefits officer to ensure they have all of their individual retirement records.
It is also important to submit a retirement application as early as possible as this allows a federal employee's personnel and payroll offices to take action on the application before his or her retirement date.
The new Retirement Guide also notes that these are other circumstances that can create processing delays:
Court orders, such as a divorce decree or property settlement. These require an additional step and are sent to the Court Order Benefits Branch for review.
Experience as a Law Enforcement Officer, Firefighter, Air Traffic Controller, Capitol Police, Supreme Court Police, or Nuclear Materials Courier, as these cases use a special annuity computation.
Past or active workers' compensation claims.
Experience as a part-time or intermittent federal employee.
Federal service at multiple federal agencies.
Missing documents and forms, or incomplete or incorrect information in your retirement application.
Moving without updating your address with OPM.
For additional tips on how federal employees can avoid processing delays with their retirement applications, see How Federal Employees Can Avoid Processing Delays with Their Retirement Applications.
Where to Find the OPM Retirement Quick Guide
You can download the latest edition of the OPM Retirement Quick Guide from OPM's website: opm.gov/retirement-center/quick-guide.
What's your impression of the new guide? Will it be useful to you? Share your thoughts in the comments below.