Lyn Alden
Lyn Alden is an investment researcher with a background that blends engineering and finance. Her work has been featured on Forbes, Business Insider, Kiplinger, and other media. She has a master's in engineering management with a focus on engineering economics.
Recent claims have said that index funds might be the next investment bubble. Should federal employees be worried?
The author points out that the recent government shutdown highlights the important of having an emergency fund for times life happens and paychecks get missed.
The F Fund has suffered from a lackluster performance in recent years. The author explains why this is the case and what its prospects are going forward.
Sitting for long periods of time doing office work can be detrimental to your health in the long term. These are two simple tips to help improve your health when working in an office environment.
One advantage of a Roth IRA for federal employees is the opportunity to increase exposure to international markets. The author explains.
The current bull market has had an amazing run, but the tide could shift at some point. These are some actions you can take to prepare for a market downturn.
What does it take to accumulate $1 million or more in your TSP account? It may not be as daunting as it might seem. The author provides several detailed examples with hypothetical numbers.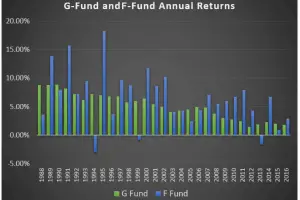 The author says that because the F Fund has benefited from a very long period of declining interest rates, it may shock investors to find out that the fund's performance could be lower going forward as interest rates rise.
Contact Lyn Alden