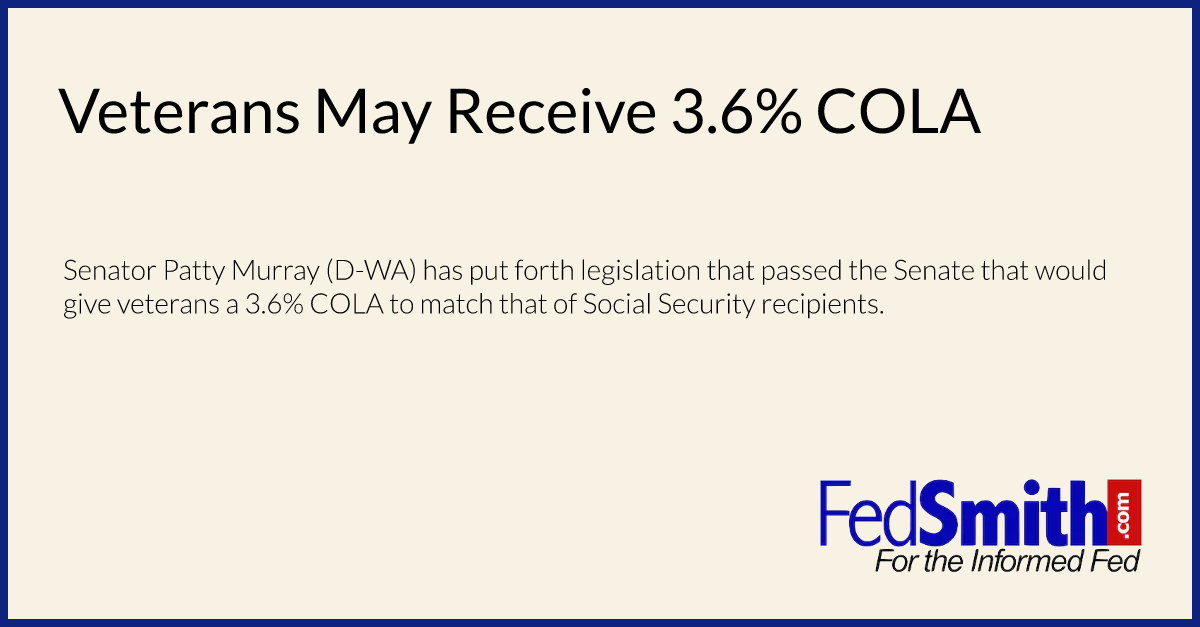 Senator Patty Murray (D-WA) has put forth legislation (S. 894) that would give veterans a 3.6% Cost of living adjustment (COLA) to match the COLA being given to Social Security recipients. The legislation passed the Senate on the same day the 3.6% COLA was announced for Social Security, putting it one step closer to become law.
According to the text of the legislation, it would provide an increase "effective December 1, 2011, in the rates of compensation for veterans with service-connected disabilities and the rates of dependency and indemnity compensation for the survivors of certain disabled veterans."
The amounts to be increased are:
Wartime disability compensation
Additional compensation for dependents
Clothing allowance
Dependance and indemnity compensation to surviving spouse
Dependency and indemnity compensation to children
The 3.6% Social Security COLA was the first one to be implemented since 2009 when it was 5.8% (based on 2008 inflation figures). The two years without any increase had not happened since the automatic increase formula for Social Security was established in 1975. Prior to these two years without any increase, the lowest annual adjustment was 1.3% in 1998. The reason for the lack of an increase the past two years was because, as reported by the federal government for this purpose, there was no inflation.
"A cost-of-living increase for our veterans is long overdue and well deserved," said Senator Murray. "Particularly in this difficult economy, our veterans deserve a boost in their benefits to help make ends meet. This is an important step for our veterans, especially on the heels of news that a COLA will be provided for the first time since 2009."