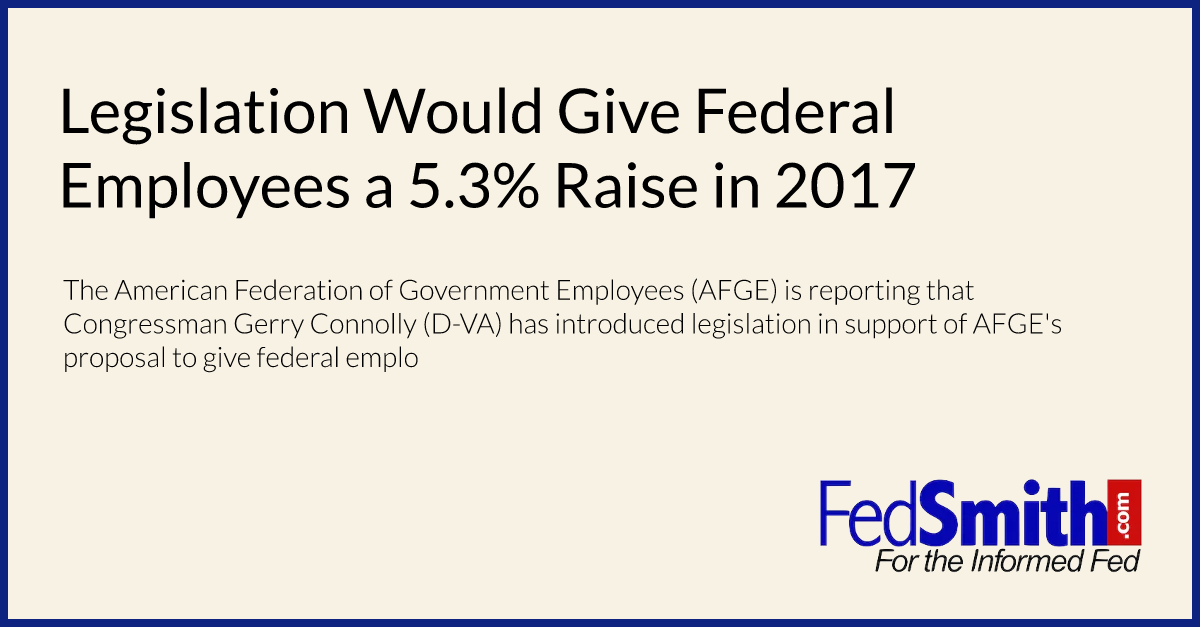 The American Federation of Government Employees (AFGE) is reporting that Congressman Gerry Connolly (D-VA) has introduced legislation to give federal employees a 5.3% pay raise in 2017.
Known as the Federal Adjustment of Income Rates Act (FAIR), the legislation would, not coincidentally, provide a raise that exactly matches the amount that AFGE said federal workers are entitled to next year.
AFGE national president J. David Cox, Sr. said in a statement on the forthcoming bill:
"AFGE has led the call for a 5.3% pay raise and I'm incredibly grateful for the strong support our proposal has received. Federal employees have gone far too long without a decent wage increase, resulting in a 6.5% drop in their standard of living since the start of the decade.
We are not asking for any special treatment, just a catch-up contribution to start making up for the $182 billion that federal employees personally sacrificed to help get our nation through the greatest economic downturn since the Great Depression."
Connolly has many federal workers in his voting district and has therefore been a big proponent of supporting bills to benefit this large voting bloc. He has introduced similar bills in the last couple of years to give federal employees larger raises than what the White House proposed.
Connolly wanted a 3.8% raise for the federal workforce in 2016, for example.
Back in 2014, Connolly and Hawaii Senator Brian Schatz (D-HI) wanted to give federal employees a 3.3% raise for 2015. Schatz's bill was companion legislation in the Senate for a bill Connolly introduced in the House earlier that same year.
Ultimately, however, none of these bills went anywhere, and federal employees eventually got the raise that the White House proposed. As my colleague Ralph Smith noted in his recent article describing the politics behind federal workers' pay raises, there is less political risk involved for lawmakers seeking votes to just go with the raise the President proposes, particularly during an election year.
However, anything can happen between now and the end of the year, and we will keep our users informed when any news arises on the status of next year's pay raise.