The Trump administration is ending the federal hiring freeze today, but that doesn't mean cuts are over for federal agencies.
The White House Office of Management and Budget (OMB) issued a memo today announcing the end of the hiring freeze but laying the foundation for additional cuts to the federal workforce. According to the memo:
This guidance fulfills the requirement in the Hiring Freeze PM for OMB to prepare a long-term plan to reduce the size of the Federal workforce. As a result, the government-wide hiring freeze is lifted upon issuance of this guidance. In place of the hiring freeze, agencies should adhere to the principles, requirements, and actions laid out in this memorandum to inform workforce planning and personnel actions.
OMB Director Mick Mulvaney told reporters yesterday that although the hiring freeze is being lifted, federal agencies shouldn't plan on adding a lot of new federal employees.
"It does not mean that the agencies will be free to hire willy-nilly," Mulvaney said. "What we're doing tomorrow [April 12] is replacing the across-the-board hiring freeze that we put into place on Day One in office and replacing it with a smarter plan, a more strategic plan, a more surgical plan."
Mulvaney didn't offer any specific figures on how many federal workers would be cut from the overall federal workforce but said, "I think it probably goes without saying that net, we think we could run the government more efficiently than the previously administration."
Agency Reform Plans
The memo directs agencies to begin developing reform plans that reflect the goals of the upcoming budgets of the next two fiscal years.
The FY 2018 budget has proposed numerous cuts to federal agencies, and the memo asks agencies to continue the trend for the FY 2019 budget by laying plans to "reduce the cost and size of the Federal Civilian workforce." The memo notes that one of the long-term goals of the FY 2019 budget is to reduce the size of the federal workforce.
The memo gives a June 30, 2017 deadline to agencies to develop a high level draft of their reform plans to "maximize employee performance."
OMB says in the memo that it will release a final government-wide reform plan as part of the president's FY 2019 budget. "The Government-wide Reform Plan will encompass agency-specific reforms, the President's Management Agenda and Cross-Agency Priority Goals, and other crosscutting reforms," according to the memo.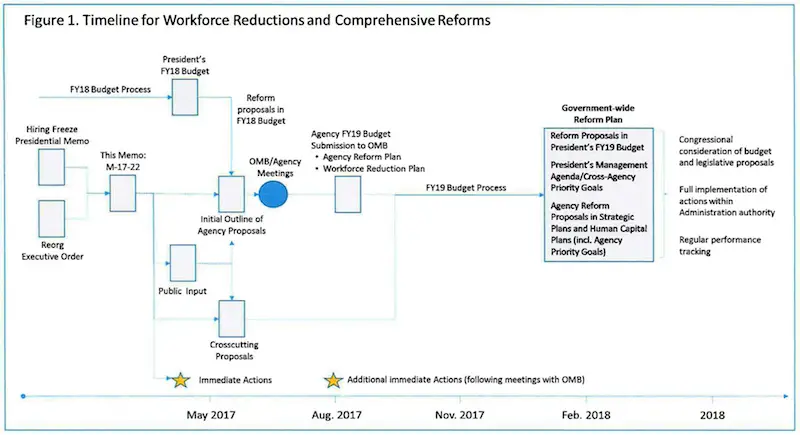 Cost Cutting Guidelines
The table below from the OMB memo shows some of the factors agencies should use in their analysis to eliminate or improve unnecessary costs/programs:
Factor
If…
Then explore options to …
Duplicative
Some or all of the mission functions or administrative capabilities of an agency, component, or program are needlessly redundant with those of another agency, component, or program
Eliminate or merge
Non-Essential
The service, activity or function is not core to the agency's mission or obsolete
Eliminate
Federalism (Appropriate Federal role)
Some or all of the services, activities or functions could be better performed by another entity, such as State/local/Tribal government or the private sector
Eliminate or restructure
Cost-Benefit

The costs of continuing to operate an agency, a component, or a program are not justified by the unique public benefits it provides

The long-term savings from shutting down or merging agencies, components, or programs including the costs of addressing the equities of affected agency staff -are greater than the expected costs

Eliminate, merge, restructure, improve efficiency and effectiveness
Efficiency and Effectiveness
The agency, component, or program -based on the available body of evidence and historical performance data -is ineffective or inefficient (e.g. struggles to make decisions and execute)
Eliminate, restructure, improve efficiency and effectiveness, improve workforce performance/ accountability, or enhance evidence-building
Customer Service
The agency, component, or program can be redesigned to better meet the needs of the public and partners in service delivery in a more accessible and effective manner
Restructure, improve efficiency and effectiveness
OMB adds in the memo, "When justifying proposals to OMB, agencies should be prepared to discuss how they conducted their analysis and provide relevant evidence. For instance, agencies should consider multiple sources of information such as GAO annual report on Government Efficiency and Effectiveness, IG reports, and evaluations."
President Trump issued an executive order in March directing OMB to "reorganize governmental functions and eliminate unnecessary agencies, components of agencies, and agency programs." This new memo from OMB is in regards to beginning to implement that executive order.
Maximizing Employee Performance
A key part of the memo is maximizing federal employees' performance. The memo lists five key areas it says agencies must address by the June 30 deadline:
Review and update formal agency policy
Agency timelines must include a process for reviewing and updating (or creating, if one does not already exist) the agency's policy, procedures, and guidance on how to address poor performance and conduct.
Provide transparency around the Performance Improvement Plan process
Agency submissions must include a timeline for providing all supervisors a copy of the rules and guidance regarding performance improvement plans as well as guidance on how unacceptable performance can be addressed pursuant to 5 U.S.C. Chapter 75.
Ensure managers and supporting HR staff are appropriately trained
Agency submissions must include a timeline for all Senior Executive Service (SES) members, supervisors, managers, team leads, and any personnel involved in employee relations to complete training on managing employee performance and conduct.
Ensure accountability in manager performance plans
Agency submissions must include a timeline for how they will ensure that supervisors and managers are held accountable for managing employee performance and conduct, including reviewing and updating (if necessary) supervisors' and managers' performance plans.
Establish real-time manager support mechanisms
Agency submissions must include a timeline for agencies to identify approaches and plans for providing accessible and "just-in­ time" expert assistance and guidance to managers who are addressing performance/conduct issues.
A copy of the memo from OMB Director Mick Mulvaney is included below.
OMB Memo on Reforming the Federal Government and Reducing the Federal Civilian Workforce