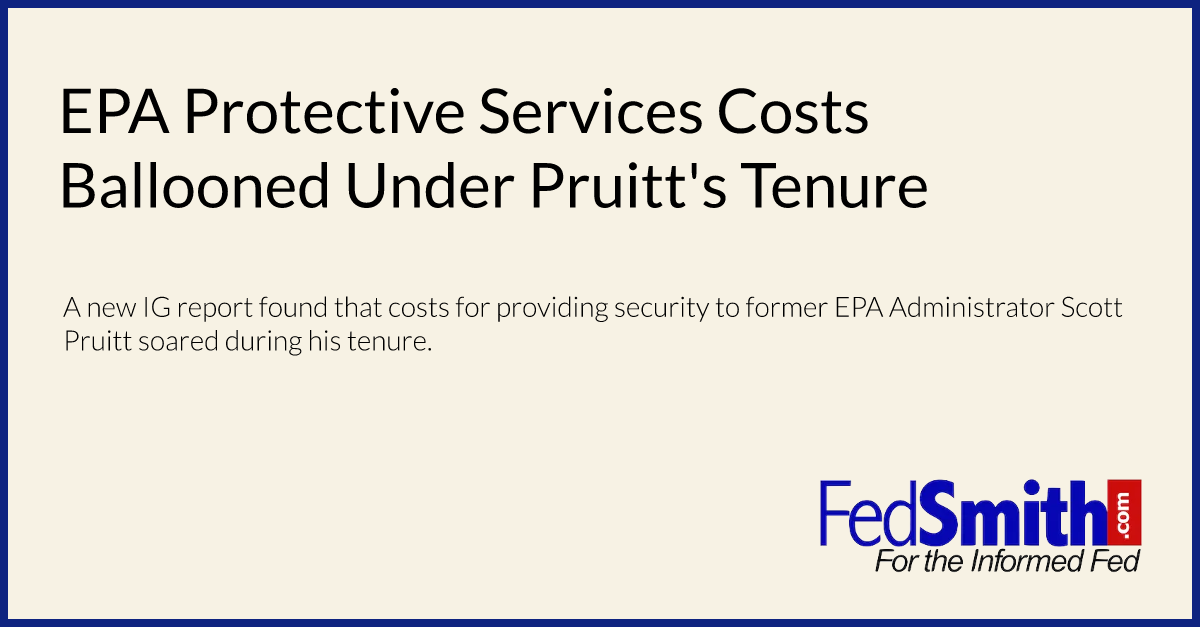 A new Environmental Protection Agency Inspector General's report found that the costs for providing security services to former Administrator Scott Pruitt jumped 110% during his tenure.
The IG conducted an investigation after a complaint was received through the agency's hotline alleging that there were timekeeping irregularities and potential salary cap violations by agents assigned to the Administrator's Protective Service Detail (PSD).
According to the report, a lack of standard operating procedures addressing the level of protection required for the administrator led to the high costs. PSD incurred over $3.5 million in costs from February 1, 2017, through December 31, 2017 without documented justification which amounted to over $10,800 per day on average. This represented a 110% increase over the prior period's $1.6 million in costs.
PSD agents also worked overtime without proper authorization, resulting in improper payments of $106,507 between January 2016 and March 2017. Additionally, the Office of General Counsel incorrectly terminated a debt owed by a PSD agent, resulting in the agent exceeding the annual pay cap.
The report noted that the IG could not determine whether PSD agents maintained law enforcement authority to provide protective services for the EPA Administrator. However, a recent EPA Office of General Counsel legal opinion, prepared in response to a recommendation in this report, asserts that the EPA has statutory law enforcement authority for its protective service.
The EPA faced criticism for the high level of security provided to Pruitt while he was in office, however, the agency maintained it was necessary given the increased levels of threats he was receiving. Documents released to the media under a Freedom of Information Act request confirmed the EPA's claims that the agency investigated significantly more threats against Pruitt than his predecessor. However, the documents also showed that few, if any, of the threats were serious enough to lead to charges.
Recommendations
The IG report made several recommendations, among them that the EPA should complete a threat analysis on a regular basis to identify the proper protection required for the Administrator as well as create and implement comprehensive policies, procedures and standard operating procedures for all PSD operations.
EPA IG Report Summary – Pruitt Security