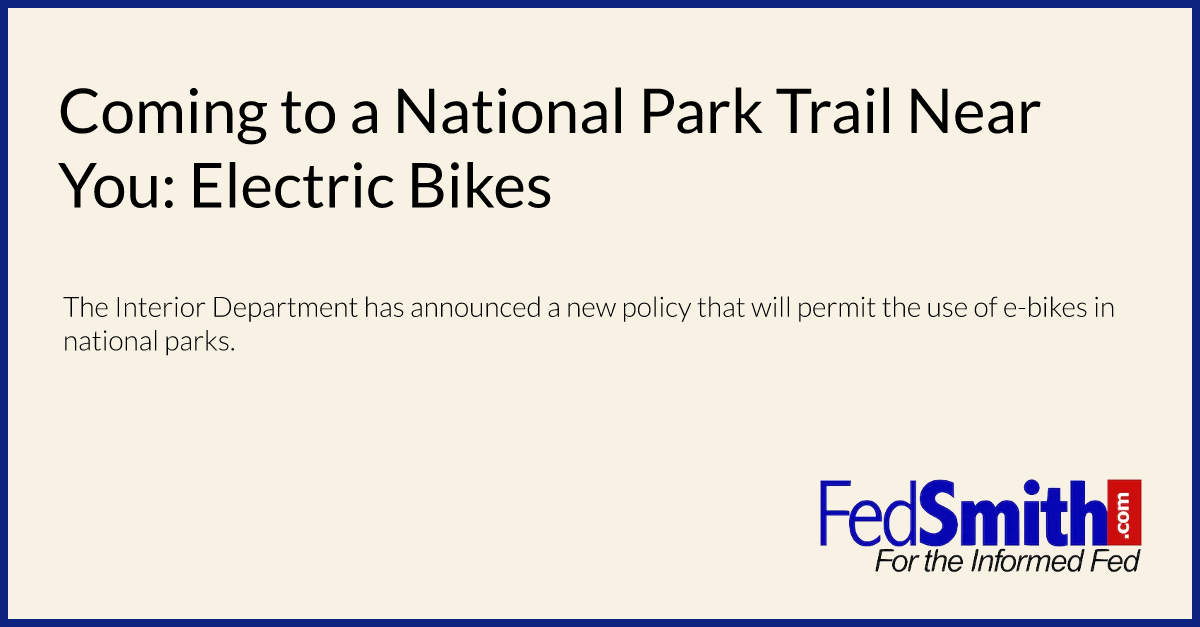 The National Park Service has announced a new policy that will allow electric bikes (e-bikes) to be used inside of national parks.
The new policy will enable visitors to use e-bikes, low-speed electric bicycles with power assistance, in the same manner as traditional bicycles, allowing them on park roads, paved or hardened trails, areas designated for off-road motor vehicle use and administrative roads.
The new policy states that the operator of an e-bike may only use the motor to assist pedal propulsion and that the motor may not be used to propel an e-bike without the rider also pedaling, except in locations open to public motor vehicle traffic. The maximum permitted speed of the e-bike will be 28 MPH.
The NPS says that the new policy is designed to expand recreational opportunities and accessibility and notes that a majority of states have adopted e-bike policies, most following model legislation that allows for the 3 classes of e-bikes to have access to bicycle trails.
The new policy was announced after Department of Interior secretary David Bernhardt signed an order on August 29 directing agency bureaus to create a clear and consistent e-bike policy on all federal lands.
The e-bikes "make bicycle travel easier and more efficient, and they provide an option for people who want to ride a bicycle but might not otherwise do so because of physical fitness, age, disability or convenience," NPS Deputy Director P. Daniel Smith said in a statement.
Not everyone is welcoming the change, however. Many outdoor groups have expressed opposition to the notion of having e-bikes on trails in national parks.
Randy Rasmussen, who is with the organization Back Country Horsemen of America, told the AP that he thinks the rule is unenforceable. "Parks are already having a shortage of staffs and rangers. And now what: they're supposed to be out there with radar guns? It's unenforceable."
DOI also directed bureaus in the new policy order to develop a timeline to seek public comment regarding changing any of the new regulations, so it's possible some of the rules could be altered longer term as the agencies collect and respond to feedback from the public.