The long running bull market continues to reward federal employees who are long-term investors in the Thrift Savings Plan.
The latest report on the total number of TSP millionaires shows that federal employees and retirees with a balance in the TSP of $1 million or more rose nearly 17% over Q1 2021.
As of the end of the second quarter 2021 (June 30, 2021), there are now almost 100,000 TSP millionaires (98,879 total). At the end of March, there were 84,808.
The largest account balance in the TSP is now $10,019,916.
So what is a key to success for the federal employees who have reached this significant milestone?
One important trait is that they are invested for the long haul. The data from the TSP show that plan participants who have hit the $1 million mark have been contributing to the TSP for an average of 28.28 years. For most federal employees, that would be the bulk of one's career.
As these successful TSP investors have proven, slow and steady wins the race; making regular contributions from each paycheck into the TSP stock funds for the duration of a federal career will make a federal employee a millionaire at retirement.
Congratulations to the federal employees and retirees who have had this wonderful success with their TSP investments!
TSP Millionaires as of June 30, 2021
| | | |
| --- | --- | --- |
| Account Balance | Number of Participants | Average Years of Contributions |
| <$50k | 3,663,973 | 5.77 |
| $50k-$249k | 1,529,078 | 15.08 |
| $250k-$499k | 530,357 | 20.36 |
| $500k-$749k | 212,110 | 23.12 |
| $750k-$999k | 99,708 | 25.23 |
| ≥ $1 million | 98,879 | 28.28 |
| Total | 6,134,105 | 10.68 |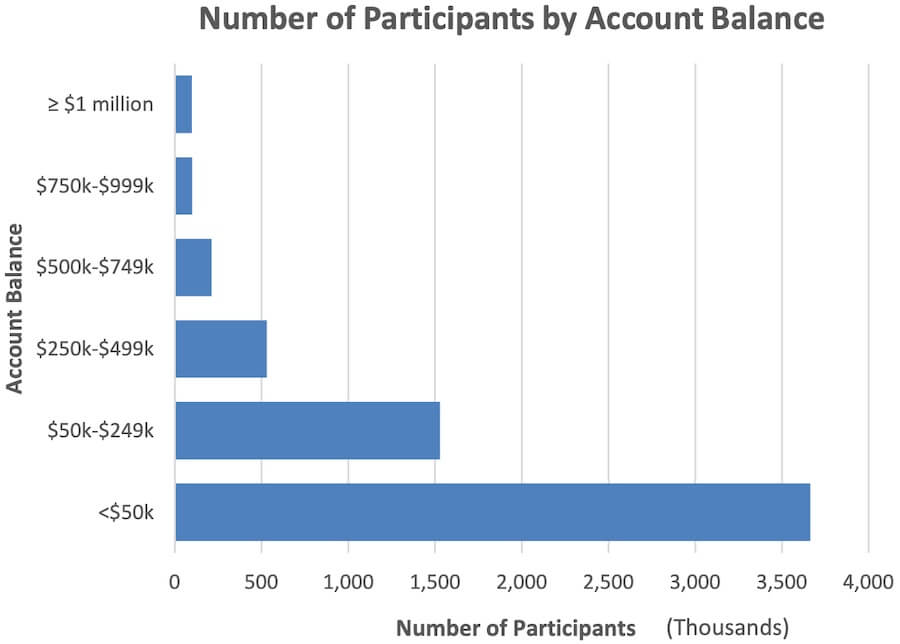 Historical Growth of TSP Millionaires
This table shows the growth in the number of millionaires in the TSP since 2011:
| Year | Number of Millionaires |
| --- | --- |
| 2020 | 75,420 |
| 2019 | 49,620 |
| 2018 | 21,432 |
| 2017 | 23,962 |
| 2016 | 9,599 |
| 2015 | 3,272 |
| 2014 | 4,167 |
| 2013 | 1,695 |
| 2012 | 562 |
| 2011 | 208 |