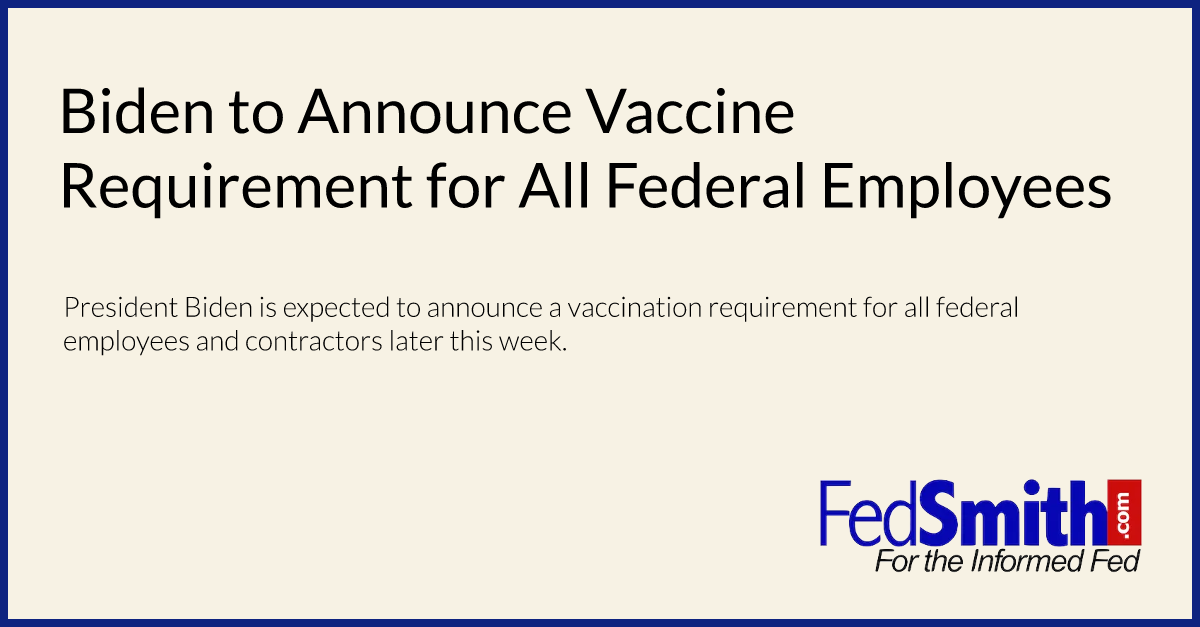 Update: President Biden made his announcement on July 29 as expected with new COVID requirements for all federal employees.
CNN has reported that President Biden will announce a COVID vaccination requirement for all federal employees and contractors on Thursday.
CNN stated that all federal employees and contractors will be required to get the COVID vaccine or be "required to submit to regular testing and mitigation requirements, according to a source with direct knowledge of the matter."
CNN's article further notes:
While the specifics are still being finalized, the source said, federal workers would be required to attest to their vaccination status or submit to regular testing. The source said the proposal will be roughly similar to what is being implemented in New York City. Additional requirements for the unvaccinated could be added as agencies push to vaccinate their employees. 

Biden will not impose the requirement on the US military, despite his authority to do so, for the time being. He is, however, likely to outline how the Department of Defense may seek to approach the issue going forward, the source said.
Biden told reporters earlier today that a vaccine mandate for all federal employees is "something that is under consideration right now."
When asked if all federal employees would be required to get a vaccination, he stated, "That's under consideration right now, but if you're not vaccinated you're not nearly as smart as I thought you were. We have a pandemic because of the unvaccinated, and they're sowing enormous confusion."
Update: Reuters reported on July 28 that a source familiar with the matter said that Biden's announcement will not technically be a vaccine mandate for all federal employees since they can opt instead for "regular testing, social distancing, mask requirements and travel limits."
"Biden…will not mandate vaccines for federal employees and those who decide against getting a vaccine will not be at risk of being fired, the source said," according to Reuters.
The expected announcement comes as the Centers for Disease Control and Prevention reversed its stance on masking guidelines for fully vaccinated individuals. On Tuesday afternoon, the CDC issued new guidelines in which the agency now recommends that individuals who have been fully vaccinated wear a mask indoors in areas with high COVID transmission rates.
"To maximize protection from the Delta variant and prevent possibly spreading it to others, wear a mask indoors in public if you are in an area of substantial or high transmission," reads the CDC guidelines.
The expected mandate also follows yesterday's news that the Department of Veterans Affairs has become the first federal agency to mandate COVID vaccinations for some of its employees.
Title 38 employees will now be required to be fully vaccinated as a condition of employment. This includes all "physicians, dentists, podiatrists, optometrists, registered nurses, physician assistants, expanded-function dental auxiliaries and chiropractors who work in Veterans Health Administration facilities, visit VHA facilities or provide direct care to those VA serves."
The VA said it is about protecting both the agency's medical employees as well as veterans.
"We're mandating vaccines for Title 38 employees because it's the best way to keep Veterans safe, especially as the Delta variant spreads across the country," said VA Secretary Denis McDonough. "Whenever a Veteran or VA employee sets foot in a VA facility, they deserve to know that we have done everything in our power to protect them from COVID-19. With this mandate, we can once again make — and keep — that fundamental promise."
The announcement of a mandatory vaccine for the federal workforce is an abrupt about-face from previous recommendations. The Safer Federal Workforce Task Force said in guidance issued last month, "At present, COVID-19 vaccination should generally not be a pre-condition for employees or contractors at executive departments and agencies (agencies) to work in-person in Federal buildings, on Federal lands, and in other settings as required by their job duties."
The Justice Department recently issued a legal opinion in which it said that vaccine mandates by public agencies and private companies are permissible under federal law. The DOJ Office of Legal Counsel said in its opinion that the law concerning emergency use authorizations (EUAs) "does not prohibit public or private entities from imposing vaccine requirements, even when the only vaccines available are those authorized under EUAs."