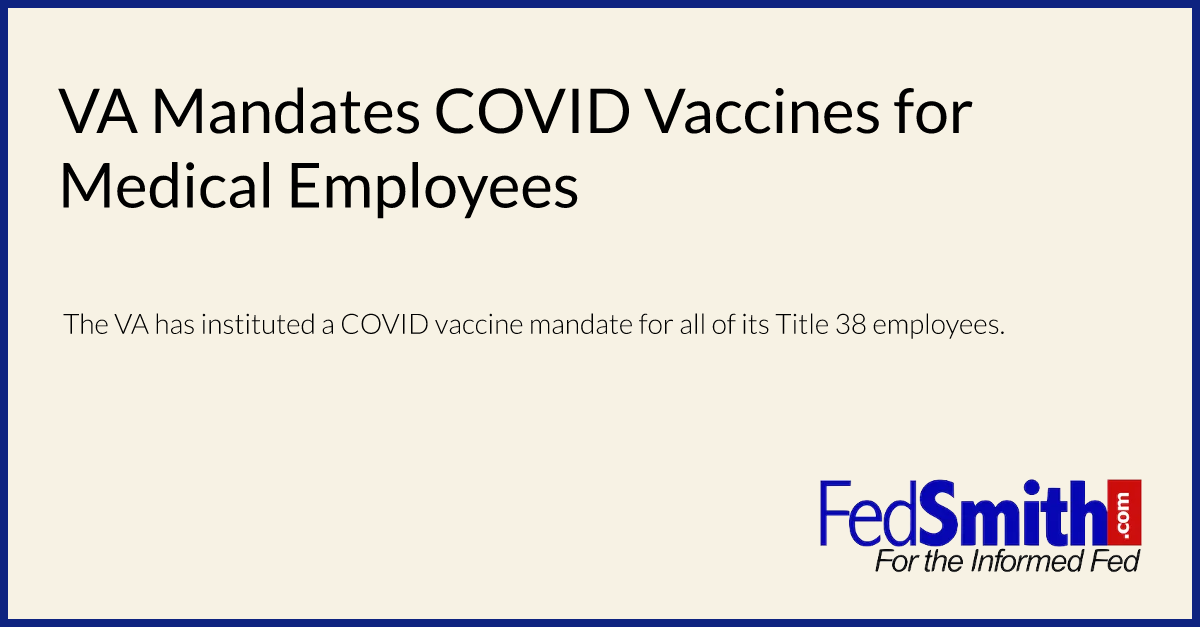 The Department of Veterans Affairs announced today that it is making COVID-19 vaccines required for all Title 38 agency employees. This includes all "physicians, dentists, podiatrists, optometrists, registered nurses, physician assistants, expanded-function dental auxiliaries and chiropractors who work in Veterans Health Administration facilities, visit VHA facilities or provide direct care to those VA serves."
VA Secretary Denis McDonough said he was instituting the mandate to protect veterans.
"We're mandating vaccines for Title 38 employees because it's the best way to keep Veterans safe, especially as the Delta variant spreads across the country," McDonough said. "Whenever a Veteran or VA employee sets foot in a VA facility, they deserve to know that we have done everything in our power to protect them from COVID-19. With this mandate, we can once again make — and keep — that fundamental promise."
Agency employees covered by the mandate have eight weeks from today to get fully vaccinated. They can get the vaccine at no cost to them at any agency facility and will receive four hours of paid administrative leave after demonstrating that they have been vaccinated.
For other vaccine incentives available to federal employees, also see:
Will Other Federal Agencies Follow Suit?
FedSmith author Mathew Tully predicted in a recent article that the VA was one agency which was likely to mandate the vaccine for its medical employees. Tully, who is an attorney who concentrates his practice on representing federal employees, said in the article that a required vaccine for VA employees is likely to be a "necessary requirement for their position to prevent transmission of the virus in VA hospitals."
He added, however, that "it is highly unlikely that any agency could impose an agency-wide requirement that its employees receive COVID-19 vaccinations as a condition of continued employment without running into issues of the policy being overbroad. Moreover, even if an agency were to require employees in some positions to receive the COVID-19 vaccination, Federal law provides individual employees with certain protections from generally applicable policies."
What About Bargaining Rights?
FedSmith author and federal attorney Joe Swerdzewski addressed the subject of whether or not federal employee unions could bargain over mandatory COVID vaccinations imposed by agencies. He notes that in order for there to be a bargaining obligation, there must be a change in working conditions which a required vaccination most likely would be.
However, Swerdzewski also notes that the challenge that would then arise for unions is determining what to bargain about. He notes that in the case of a setting such as the VA's healthcare employees working in the medical field, it likely would be hard to make the case for prohibiting mandatory vaccinations since it would "interfere with managements' right to establish internal security practices intended to safeguard the person and property of the government."
Recommendation of The Safer Federal Workforce Task Force
Another reason it appears unlikely that there would be a vaccine mandate for the entire federal workforce is based on recent guidance from The Safer Federal Workforce Task Force, created by an Executive Order from President Biden earlier this year.
The Task Force said, "At present, COVID-19 vaccination should generally not be a pre-condition for employees or contractors at executive departments and agencies (agencies) to work in-person in Federal buildings, on Federal lands, and in other settings as required by their job duties."
Justice Department Weighs In
The Justice Department recently said that vaccine mandates are legal in an opinion issued by its legal office. The DOJ Office of Legal Counsel said in its opinion that the law concerning emergency use authorizations (EUAs) "does not prohibit public or private entities from imposing vaccine requirements, even when the only vaccines available are those authorized under EUAs."
It will be interesting to see what other agencies may follow the VA's lead on requiring their employees to get a COVID vaccination as a condition of employment.
Update: President Biden intends to announce a new vaccine requirement for all federal employees.