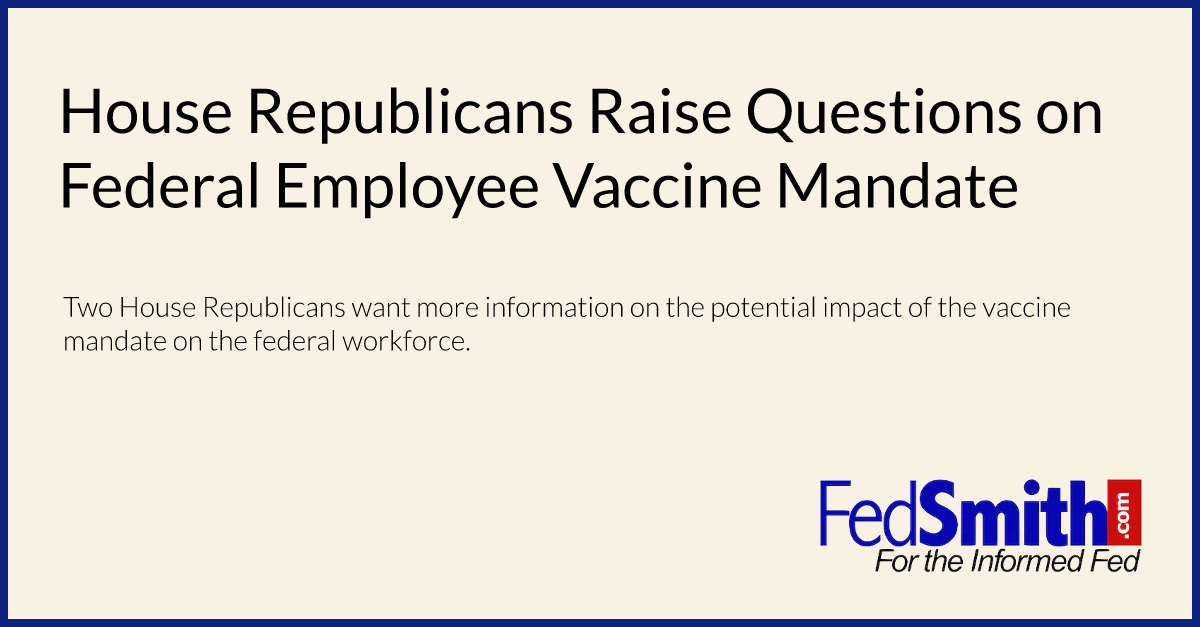 Two House Republicans are seeking more information about the potential impact that President Biden's COVID vaccine will have on the federal workforce.
Congressmen Jody Hice (R-GA) and James Comer (R-KY) sent a letter to agency leaders in which they raised questions about the lack of exemptions to the vaccine mandate as well as the potential loss of employees from the federal workforce.
"OPM, OMB, and GSA believe there will be minimal employee attrition due to these mandates. They did not, however, substantiate the reasons for this belief. If they are wrong about attrition from either category of employees, they risk significant disruption of agency missions, major adverse consequences for workers, families and businesses, and the breach of an untold number of federal contracts," wrote Hice and Comer in their letter.
Regarding exemptions from the vaccine mandate, they also added:
OPM's, OMB's, and GSA's insistence on allowing extremely few exemptions is also troubling. For example, as represented to our staff, the Biden Administration may intend to allow medically-related exemptions only for those already proven to be allergic to available vaccines and those under other exemptions yet to be specified by the Centers for Disease Control and Prevention (CDC). The possibility of exemptions for those already possessing natural immunity to COVID- 19 was not adequately addressed by the President's orders, and it was likewise inadequately addressed by the briefing. Yet, science is emerging that natural immunity may be as or more effective than vaccine-induced immunity. The scope of religious exemptions also was insufficiently addressed, and there as yet seems to be no room for exemptions based on personal reasons like those that would validly lead an employee, in consultation with their doctor, to decline vaccination. Additionally, for those individuals seeking federal employment or federal-contractor employment after the President's mandates, vaccination status will delay onboarding or result in pulled offers of employment.
The Congressmen went on to ask for documentation on data such as the number of federal employees who have been vaccinated, data tracking terminations of federal employees on the basis of their vaccination status, and what agencies are doing to work with the Centers for Disease Control and Prevention to address treating natural immunity to COVID-19 as a substitute for vaccination.
The letter asks for all documentation to be provided by November 10, 2021 at the latest.
Other lawmakers expressed similar concerns at a House Intelligence Committee hearing this week ahead of the impending deadline for federal employees to get vaccinated or potentially lose their jobs.
"Is the agency [CIA] prepared to terminate hundreds, if not thousands, of CIA employees, case officers and intelligence professionals if the vaccine is not abided by?," Congressman Darin LaHood (R-IL) asked CIA Director William Burns.
LaHood was worried about potential national security implications that could arise from losing federal employees to the vaccine mandate.
According to the Office of Personnel Management, federal agencies can begin enforcing the vaccine mandate in November. The agency said in recently issued guidance that November 9 was the earliest start date for enforcement because of the timeframes required to get a full dose of one of the COVID vaccines by the government's November 22, 2021 deadline.
A copy of the letter is included below.