Tag: Military
Legislation has been introduced to give the same tax credit to federal employees that military personnel get when working in a combat zone.
The Thrift Savings Plan has provided information to help military service members decide if they should move to the new Blended Retirement System.
The U. S. Supreme Court slapped down a decision by the Arizona state courts that held the Uniformed Services Former Spouses' Protection Act did not pre-empt the Arizona family court's order requiring that a military retiree make up for a portion of his annuity lost by his ex-wife by operation of federal law.
Michael Flynn has been accused of violating the Emoluments Clause of the Constitution. What is this clause and how does it apply to retired military personnel?
Will military and federal civilians receive the same pay raise in 2018? Here is how pay raises compare for the past 10 years.
These are eight financial moves that military families can make to secure a stronger financial future.
The Navy has issued its last major directive of the Barack Obama era with a "diversity road map" that paves the way for a multiethnic force of sailors and civilians who are protected against discrimination based on "gender identity" or "sex stereotyping."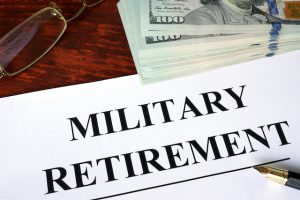 A new military retirement system is going into effect. Here is how it will work.
Many federal employees who are veterans will become eligible for shopping through the military exchange system later this year.
The year ahead will prompt many of today's 1.3 million active-duty service members to make a big decision about their retirement benefits: whether to preserve their place in the traditional military pension system or opt into a new "blended" benefits package.